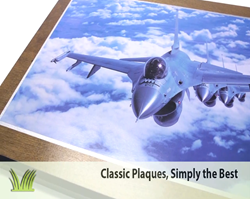 Custom laminated wood plaques (...) are considerably less expensive than cash incentives, but they often have much greater impact on team morale, as they are a public exhibition of unique contributions to the business (...)
Oakwood Village, OH (PRWEB) June 04, 2013
Classic Laminations, the manufacturer of custom high quality Classic Wood Plaques and provider of comprehensive print finishing services, announced the launch of a new campaign for first time plaque customers. With a purchase of at least three wood plaques, new customers will receive an additional plaque, free of charge. The initiative is empowered by the results of a recent Gallup study, which stated that companies that show appreciation for their employees report an average of 21% increase in productivity.
"Custom laminated wood plaques crafted with care are considerably less expensive than cash incentives, but they often have much greater impact on team morale, as they are a public exhibition of unique contributions to the business and a recognition of valued accomplishments," explained Jim Tidd, owner of Classic Laminations and expert in working with corporate clients to provide this kind of incentive. "As I have learned over the years, a happy staff is a productive staff; and honestly our Classic Wood Plaques are one of the most valued and effective ways to display that."
Tidd's affirmation is also confirmed by a study published by The George Washington University titled 'The Power of Recognition - it's not always about the money'. The research found that 57 percent of employees are more interested in the underlying message behind the reward, and are considerably less motivated by monetary stimulus.
Jim Tidd advises, however, that customers require the plaque to be of the highest quality and long lasting, and once they see and touch a Classic Wood Plaque, they find no reason to look further.
The Classic Wood Plaques were part of the family of pioneer products at Classic Laminations. While expert craftsmanship is responsible for unparalleled quality and attractiveness, patented technology assures protection of the framed document against dust, humidity, pollutants and aging.
Carefully selected materials and custom cutting-edge manufacturing equipment are employed to create each and every wood plaque, in a unique process that enhances any printed piece while preserving them for many years. For that reason, Classic Wood Plaques are also ideal for preserving important, notable documents, such as magazine and newspaper articles, printed advertisements, awards, certificates, and photographs.
Classic Laminations' manufacturing facility is located near Cleveland, Ohio, and all materials are Made in the USA. Classic Wood Plaques can be delivered to any U.S. state, and internationally. More information about Classic Wood Plaques can be found at http://classiclaminations.com/wood-plaques/. Further details on the 'Buy 3 or more, get 1 free' offer can be accessed at http://classiclaminations.com/plaque-offer/.
About Classic Laminations
Classic Laminations has been providing premium print finishing throughout the Midwest since 1976, and their experienced staff and vast array of equipment ensure that virtually all print finishing needs desired by clients can be handled effectively. Their staff is intimately aware of how the evolving printing needs of today's businesses are impacted by changing technology, and their hands-on approach to providing flawless print finishing allows them to work directly with clients who require comprehensive solutions. Specific knowledge and expertise of digital print finishing has expanded their customer base outside their normal marketing area. By providing complete print finishing services for jobs of any size, Classic Laminations allows printers to concentrate on building their businesses rather than investing in additional manpower and equipment, improving efficiency and profit margins across the board. To learn more about Classic Laminations, visit http://www.ClassicLaminations.com, or call (440) 735-1333.