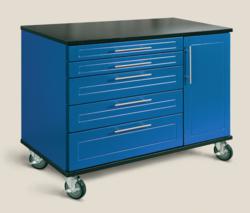 We are always looking to take something that may seem unconventional and make it work for us.
South Beloit, IL (PRWEB) January 25, 2012
GCC Coatings has managed to add yet another process for coating wood products to its already impressive range of wood finishes. Having taken the wood powder coating niche by storm, the company desired to expand its repertoire even farther by adding its new Impact Coating™ finish that combines features like high impact resistance, chemical resistance and water resistance. "We are always looking to take something that may seem unconventional and make it work for us", said Troy Greenberg, President. "We really enjoy being able to show our clients that wood is still a viable material for building just about anything when the right coating is applied."
GCC Coatings was looking for a strong, durable coating that could be applied to the counter top of a garage workbench and happened upon an entire niche. The company will also be offering its services to the P.O.P. display industry by coating store display fixtures and counter top edges.
The Impact Coating™ is a hybrid combination of polyureathane and polyurea. These materials are best known for their use in truck bed linings. Both have great stand alone features but the combination of the two makes for an even better coating that has a 4.5/ft./lbs impact resistance and a Shore D Hardness of 55+. The finish is resistant to chemicals like gasoline and motor oil and also is water resistant.
GCC Coatings is the child company of Greenberg Casework Co. Inc. The parent company has been manufacturing casework for projects across the country since 1985 and continues to grow its brand. As a U.S. based company, Greenberg Casework Co. Inc. takes great pride in offering American made products and services. "Our emphasis on providing high quality goods is the key to our success", said Troy. "Nothing we endeavor is done partially or half heartedly. We truly commit ourselves to every job we take on and stand behind every single one of the products and services we offer." Such standards are rare in today's manufacturing market.
The expanding company already boasts huge successes as one of the originators of the powder coat mdf (medium density fiberboard) process. That process is currently used to coat the garage organization systems manufactured by GCC Coating's sister company, RedLine Garagegear. Powder coating has about a 50% cost savings when compared to the cost of applying a traditional liquid paint.
Powder coat finishes are extremely popular for metals while wood powder coating remains a well kept secret. Powder coating wood is a very unique finish and requires an equally unique process that offers huge benefits when applied skillfully and correctly. GCC Coatings invested a great deal of time and resources in perfecting and fine tuning their particular powder coating process. The result has been a steady increase in sales of the powder coated garage cabinets manufactured and sold by RedLine Garagegear. GCC Coatings has also seen a major upswing in the amount of coating it does for schools, hospitals, and P.O.P. display designers across the country.
Maintaining a high standard for environmental sustainability is paramount to GCC Coatings. All of the processes and materials used by the company are considered green including its new Impact Coating™. "We understand the implications that unsafe materials can have on the environment and on the health of our employees and consumers who come in contact with our products in various ways", added Troy.
GCC Coatings hopes to continue seeing great success with all of its coating processes. The company will continue to defy conventional wisdom by developing unheard of ways to coat wood products.
About GCC Coatings
GCC Coatings(http://www.powdercoatmdf.com) is a division of Greenberg Casework Company which is headquartered in the Northern Illinois city of South Beloit. Since 1985 Greenberg Casework Company has been manufacturing custom cabinetry, casework, and store fixtures to both the business and building industries. The small company prides itself on quality workmanship, close attention to detail, and keeping the needs of every customer first. The company has three cabinet component lines: GCC Coatings, RedLine Garagegear, and RedLine Closet Systems. In addition to all of that the Greenberg Casework Company manufactures powder coated components and parts for OEM manufacturers and store fixture companies.
###