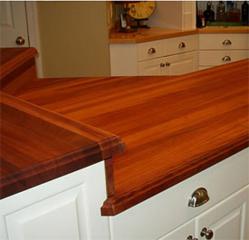 We provide countertops that will add the beauty, durability and value of real, natural wood to our customers' homes.
Norfolk, VA (PRWEB) June 30, 2011
The Southside Woodshop, located in Norfolk, Virginia, is quickly becoming known nationwide for their hand-crafted custom wood countertops. Jud Dinsmore, owner and craftsman, builds each natural wood countertop to exact specifications with premium quality. Then, after thorough inspection, they are shipped in custom crates to homes across the nation.
"Many people are not content with the veneer on presswood or even Formica," says Dinsmore. "They want something that will add the beauty, durability and value of real, natural wood to their home. This is the type of client that we most often serve."
The Southside Woodshop has been making cabinets, cupboards, and even cutting boards for several years. Dinsmore's first-class reputation continues in the creation of his custom countertops. "It's well worth the extra expense to have a beautiful wood countertop that will last for decades," said one satisfied client.
Dinsmore offers countertops using twenty-one different wood species. This variety means that natural colors are available to match the décor of virtually anyone's home. Many wood names are familiar such as hickory, maple, ash, and cherry. Others are little known and grown abroad, such as iroko (often used as a teak substitute), jatoba (Brazilian cherry), lacewood, and lyptus (grown in Brazil). Even bamboo, thirty percent harder than oak, is available.
Grain construction is also offered with three options. Least expensive is the flat grain style. "We use only the highest grade, premium boards for our flat grain tops. We go to great lengths to select and assemble lumber that is similar in color and grain." The individual boards are from four to ten inches wide, making the countertop from 1.25 to 2.5 inches thick.
A second option is edge grain with the edge of the board facing up. This offers a different grain pattern and usually gives more stability against seasonal changes than flat grain construction. Edge grain countertops vary in thickness from 1.5 to 6 inches.
The third choice is end grain construction - often referred to as "butcher block" construction. "Since the end grain is much harder than flat or edge grain," says Dinsmore, "it's the best option when the surface is going to be used as a cutting surface." These are the most difficult to make and the most expensive to buy. End grain countertops are 2.25 to 6 inches thick.
Twenty different router edge patterns are also offered by Dinsmore. These can be seen on The Southside Woodshop's website.
Southside ships their countertops with three finishes. Unfinished allows the customer to finish it as he likes. Food safe mineral oil is the only option if someone plans on cutting directly on their countertop. It limits stain and water damage but must be refreshed every so often. Finally, a permanent finish, best for non-cutting surfaces, is available in dull, satin, or semi-gloss.
"Some might think we only serve the Norfolk, Virginia area," says Dinsmore. "Actually we make and ship custom countertops to destinations all over the States. In fact, we offer our services internationally as well."
"It sounds like just what I want, but I imagine such quality is really expensive," one person commented. To discuss cost, call The Southside Woodshop directly or fill out the form on their website. Mr. Dinsmore will be glad to provide a free estimate. "The investment may be more affordable than you think," says Dinsmore, then adds "Summer is our busiest season so act quickly because it's first come, first served."
For more information, please contact:
Jud Dinsmore
http://www.customwoodcountertops.com/
(757) 366-8828
###