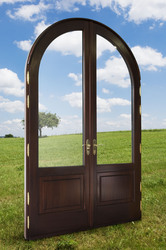 It's a significant accomplishment to achieve such high design pressure ratings with such an expansive span of glass
Roswell, GA (PRWEB) October 6, 2009
With a rich heritage of luxury and performance since 1728, Montag Windows & Doors is using its nearly three centuries of experience to bring an updated spin to the classic exterior French door
Combining old world craftsmanship with a state-of-the-art automated computer numeric controlled (CNC) production facility, Montag has created an entrance door using superior engineering and fabrication processes not available elsewhere. Starting with wood panels at a standard thickness of over three inches (vs. the American standard of 1-3/4"), Montag produces its doors in hardwoods ranging from Meranti and Mahogany to Teak and Ipé. This gives Montag clients a wide variety of wood specie choice, which until now, has not been available through one company. Availability in sizes up to 8'x12' (7'-6"x10'-0" for the coastal hurricane market), and in virtually any shape and glass and panel configuration imaginable stretches design and applications for the doors even further.
For those clients in the coastal hurricane markets, Montag's impact-rated wood French doors carry a design pressure of up to -85 PSF, even at the largest size. "It's a significant accomplishment to achieve such high design pressure ratings with such an expansive span of glass," says Mitch Lewandowski, managing director of Montag. "This gives our clients and architects freedom to place wood French doors on any part of a house without concerns about product limitations that have been commonplace in the past."
For durability, each wooden door receives a multi-stage, seven-step finishing process using Sikkens stain or paint (a renowned German paint manufacturer that also dates back to the 1700's). Montag meticulously finishes and waterproofs each door, including behind the gaskets, hardware and glass.
For increased durability, Montag's door thresholds are made from extruded aluminum and stainless steel as opposed to wood systems that are typical for French doors and can deteriorate in harsh climates. "This attention to detail creates an exterior French door system that will weather the elements and retain its luster for years without fail," says Lewandowski. "We pride ourselves on creating wood products whose craftsmanship, quality and durability exceed any products on the market today."
Montag exterior French doors are available exclusively through the Montag Dealer Network Alliance. For a complete list of dealer locations, as well as additional information on the Montag product line, visit http://www.montagwindows.com or call 866-562-1728 ext 701.
About Montag Windows & Doors
Founded in Germany in 1728, Montag Windows & Doors crafts superior wood windows and doors for a discerning group of clients. From its humble beginnings in a small workshop, to its present-day state-of-the-art fabrication facility, Montag has preserved is tradition of master craftsmanship in the creation of the finest high-performance luxury windows and doors available on the market.
As part of its international expansion, Montag opened its first U.S marketing and distribution facility in Roswell, Georgia. From this location, Montag is equipped to meet the needs of architects, builders, developers and homeowners throughout the Americas. For more information, visit http://www.MontagWindows.com or call 866-562-1728 ext 701.
###