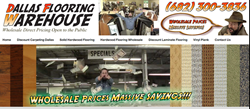 Dallas, TX (PRWEB) June 09, 2013
Dallas Flooring Warehouse will be kicking off the "One-Time Only Bela Cera 12Mil Wood Laminate Flooring $1.99 Special Buy" ultra limited sale tomorrow, Monday, June 10, 2013 at 10 a.m. sharp. This extremely limited time promotion will end when this stock is sold out. This flooring features a handscraped wood finish, a 25-year warranty and a 10-year commercial use warranty.
Dallas Flooring Warehouse has made an exclusive buy on Bella Cera handscraped wood laminate floors and has never before sold this same flooring for less than 3.79/sqft. This special buy truckload will be sold at $1.99/sqft. and $2.99/sqft. installed including the underlayment cushion and vacant installation. Moving of furniture is available at additional cost.
"This Bela Cera wood laminate flooring has that $15/sqft. handscraped look! We got a single truckload in a special buy and we are passing on the savings to the first lucky customers to get in on the deal," says Christopher Oliver, Dallas Flooring Warehouse spokesman.
Dallas Flooring Warehouse provides wholesale direct pricing to the public on flooring including carpeting, solid hardwood floors, wood laminate flooring, waterproof vinyl plank, and hardwood flooring. They also carry a huge selection of tile, travertine, granite countertops, backsplash material and much more. They are the leading flooring discounters in the Dallas-Fort Worth Metroplex with a massive multimillion dollar on-site inventory and wholesale direct pricing, they are dedicated to providing Dallas-Fort Worth residents with the best flooring products at the lowest possible prices. Their address is Dallas Flooring Warehouse 8717 Directors Row Dallas, TX 75247. For more information about Dallas flooring warehouse, visit their website at dallasflooringwarehouse.com.