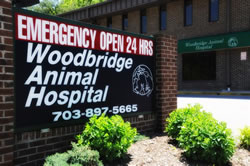 We strive for open communication and compassionate support for our clients and pets. To accomplish this, we offer the best quality veterinary medicine in a state-of-the-art facility—and now our website offers a good reflection of that.
Woodbridge, VA (PRWEB) June 28, 2012
Woodbridge Animal Hospital, a full-service emergency pet hospital, has just launched a new website. Medical Director, Dr. Jim McDonald, says that the new website has been designed to make it easy for pet owners to take care of their pets' health any time of the day or night. According to McDonald, the new website enables people to check a pet's medical records, refill prescriptions, and access a library of pet care information. Visitors can also connect to the Woodbridge pet hospital's Facebook page from the website, which features updates about timely pet health information.
Dr. McDonald says that the new website is an extension of the animal hospital team's philosophy: "We are thrilled with the new website. Woodbridge Animal Hospital is a full-service veterinary facility with 24-hour emergency service in addition to scheduled, routine veterinary wellness care appointments. We believe help should be available for sick or injured pets anytime of the day or night, so the new website extends that 24-hour service into pets' homes. Pet owners can go there to learn about how to handle pet emergencies, and they can refill prescriptions so they will be ready to pick up at the right time—it's all about providing extra service and convenience for our patients' families so their pets have the best chance of staying healthy. We'll also be adding more articles to our pet wellness library as the site continues to grow."
Part of Woodbridge Animal Hospital's new website is devoted to providing secure access to patients' medical records through the Pet Portal. Pet owners can register with the hospital to be able to access their pets' vaccination and spay and neuter records, and other information about their pets' health. McDonald says that access is restricted and secured so that the records stay safe. Pet owners can also use the portal to contact Woodbridge Animal Hospital staff directly with any questions they have about their pets' records or health concerns. Pet owners can also refill prescriptions online, and double check their dog or cat's progress through the hospital's pet wellness program, which is designed to provide preventative care for patients.
Dr. McDonald is pleased with how the website came together and is excited to watch it continue to grow and add value for pets and their families. "We strive for open communication and compassionate support for our clients and their pets. To accomplish this, we offer the best quality veterinary medicine for our patients in a state-of-the-art facility—and now our website offers a good reflection of that. The new website gives clients more ways to communicate with us and have access to information they need any time in order to care for their pets' needs. We'll also post regular updates to our Facebook page about current pet health topics. This is yet another layer of our service that empowers pet owners to take charge of their pets' health."
Woodbridge Animal Hospital is accredited by the American Animal Hospital Association. They are open 24 hours a day, 7 days a week and provide all aspects of emergency pet care and routine pet wellness care. They were voted "Best of Prince William County" from 2004-2011 in the veterinary category and won honors from Washingtonian magazine for "Best Vet" and "Best Pet Care" from 2008-2011. Their new website is located at http://www.woodbridgeanimalhospital.com
# # #
Contact:
Dr. Jim McDonald
2703 Caton Hill Rd.
Woodbridge, VA 22192
Phone: (703) 897-5665
Fax: (703) 583-8835