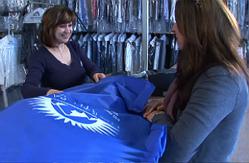 We're accepting, cleaning, and repairing all types of winter gear. With the help of Coats for Kids, we aim to keep those in need warm and this winter season.
Vaughan, Ontario (PRWEB) November 19, 2012
Facing down the Canadian winter without the right gear can be more than miserable; with great drifts of snow and sub-zero temperatures, even the city can be quite dangerous in the winter months. That's especially true for children, who not only lack adult strength but also must routinely venture out in the cold through the school year.
Unfortunately, a winter without coats is precisely the challenge that all too many Ontario students are still forced to face. That's a challenge that Woodbridge-based North Park Dry Cleaners, in conjunction with the Coats for Kids charity drive, has decided to do something about.
From now until December 2nd of this year, Coats for Kids will be placing bins in the front foyers of local Vaughan city area Catholic schools to collect new and gently used outerwear for children - including jackets, hats, and matching gloves or mittens. The contents of the bins will be collected weekly, and North Park Dry Cleaners will clean the donated goods and undertake any minor alterations or repairs that may be needed. From there, the coats will be distributed to children attending inner city schools who are in need of winter weather gear. The outerwear is disbursed in a sensitive manner to avoid provoking stigma.
Last year's collection garnered over 70 coats for students in one local city school; this year, the drive aims to collect 200 coats for use in three different schools. Of particular request this year are winter clothing items for babies and newborns, but all manner of winter weather gear will be accepted.
North Park Dry Cleaners has been a family-owned Woodbridge dry cleaning business for over 50 years, serving the Vaughan, Ontario region and Greater Toronto Area. North Park Dry Cleaners are also proud to be part of the FS Local program. Entering its second year, the Coats for Kids initiative was inspired by the selfless actions of a school teacher at St. Angela Merici, and aims to equip hundreds of children with free winter weather gear this season.