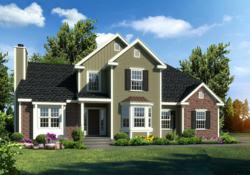 A large number of potential home buyers count themselves out of the market because of widely-held myths about home financing.
Monroe-Woodbury, NY (PRWEB) April 10, 2012
The builder (WP3,LLC) of Woodbury Junction, a new gated development of 450 homes in Orange County NY, announces a partnership with Wells Fargo Home Mortgage to smooth the path to new-home ownership for many buyers. The partnership aims to help prospective buyers capitalize on one of the best buyers' markets in decades, according to Wells Fargo Home Mortgage Sales Manager, Vincent Van Voorhis.
"A large number of potential home buyers count themselves out of the market because of widely-held myths about home financing," said Van Voorhis. "While credit certainly is tighter than it was a few years ago, many buyers think they won't be able to get a loan without 20 percent down and great credit, but that is simply not the case."
William Brodsky, principle of WP3,LLC said, "Having worked with Wells Fargo Home Mortgage on multiple projects over the past 10 years, we have a history of delivering a new home with a monthly payment and down payment that is good for everyone."
Buyers seeking a new home in Woodbury Junction have a choice of two neighborhoods, Palisades Ridge, residences for families of all ages and Kensington Station, an active adult 55+ community. Both neighborhoods present homes in a variety of sizes and price ranges as well as offer custom design options.
On-site mortgage services in Woodbury Junction's Welcome & Sales Center include: a no-charge credit analysis; a clear determination of how much house a prospective buyer can afford; and an accurate calculation of the monthly payment on that house. Wells Fargo Home Mortgage also provides assistance with credit enhancement and repair and budgeting for the down payment.
"Many visitors to Woodbury Junction are first time homebuyers. The excitement of selecting their first home can be offset by concerns regarding their ability to obtain an affordable mortgage," says Theresa Budich, BH&G Rand Realty broker. "By having a mortgage representative from Wells Fargo on-site, the financial questions are addressed immediately and the process to begin purchasing their new home is expedited."
With new homes in Woodbury Junction being delivered in 60-90 days, service and speed are the keys to a smooth and successful mortgage approval. Working together, Woodbury Junction and Wells Fargo establish unrivaled quality and assistance as the latest "suburban" legend for the new home buyer.
To learn more about Woodbury Junction, visit http://www.woodburyjunction.com or to schedule a tour, call 1.800.697.0028 or email theresa.budich(at)gmail(dot)com
WP3,LLC founded by principle William Brodsky with a mission to create homes with outstanding quality, value and appeal.
Better Homes and Gardens Real Estate - Rand Realty, founded in 1984, is the No. 1 real estate brokerage in the Greater Hudson Valley with 25 offices serving Westchester, Rockland, Orange, Putnam and Dutchess counties. http://www.randrealty.com
Wells Fargo Home Mortgage is the nation's leading mortgage lender and services one of every six mortgage loans in the nation. A division of Wells Fargo Bank, N.A., it has a national presence in mortgage and banking stores, and also serves the home financing needs of customers nationwide. http://www.wellsfargo.com/mortgage.