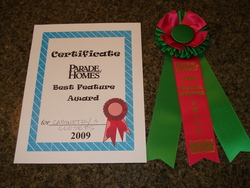 The solid wood closet system is a perfect match for the trim package that Saussy Burbank installs in their homes
New London, NC (PRWEB) August 4, 2009
E Closet Solutions partnered with Saussy Burbank to capture the Best Feature Award in the Parade of Homes for Cabinetry and Closets. The solid wood closet system product by John Louis Home was installed throughout the home.
E Closet Solutions launched the e-commerce site, http://www.woodclosetsystem.com, in early 2009 after being associated with John Louis Home for several years. Lisa Harris commented: "This product is unique and offers the consumer a true value in today's tough economy."
The home was built by Saussy Burbank of Charlotte, NC. Lowe's Companies partnered with Saussy to present an "Idea Home" in the Davidson Pointe community in Davidson, NC. E Closet Solutions designed and installed the closets in the entire home. "The solid wood closet system is a perfect match for the trim package that Saussy Burbank installs in their homes" Lisa Harris says.
The master bedroom closet was the feature that combined a variety of the product line offered by John Louis Home. Both the 16" deluxe and the 12" standard shelving was used along with fluted glass doors, 6" and 8" drawers and a wire basket. An additional adjustable shelf tower was combined to add shelving on a small wall. The solid metal hardware further enhanced the look. The open design maximized space without looking cluttered. A continuous shelf design gives the homeowner plenty of shelf storage space. Shoe shelves in the stand alone tower keeps the floor clear for easy cleaning. Space was utilized fully in all closets. High ceilings in smaller closets enabled more than one shelf.
About E Closet Solutions
E Closet Solutions offers design and installation of closet product in the Piedmont area of NC and sells online from coast to coast. Closet-in-a-box systems in three (3) categories as well as individual products are offered. Solid wood ventilated shelving allows for air circulation while preventing marks on clothing. Drawers are available in 6", 8" and 10" and feature ball bearing glides that allow full extension. Wire products such as valet rods, tie/belt racks, pant racks and three (3) sizes of wire baskets complement the product and also feature the same glides.
For more information contact Lisa Harris @ 980-581-1383.
###