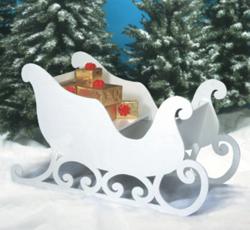 Even for a beginner, both projects can be completed in a single afternoon.
Duluth, MN (PRWEB) October 17, 2012
Just in time for the holiday season, Gizomplans is releasing two new woodcraft patterns that are perfect for this year's Christmas display. The two patterns, Santa's Sleigh and Polar Bears, are an eco-friendly and affordable way to spruce up the neighborhood this Christmas season.
"We love the festive nature of this Christmas wood patterns," said Brian Luoma of Gizmoplans. "Friends and family love how something so simple to make can look amazing when on display. Our family has enjoyed these decorations for many years and we wanted to share that simple joy with our customers."
Show off your affinity for St. Nick with a Santa Sleigh Pattern that creates a 3D sleigh perfect for a festive yard display. Once constructed, this sleigh is approximately 35" tall x 39" long x 25" deep and At the end of the season, the assembly can be easily broken down for storage. The full size pattern comes with a complete list of materials and assembly instructions for a easy to do DIY-project.
Create a Winter Wonderland with family of bears with the Polar Bear Pattern, which contains two patters for both a large and small bear. Dressed up with ribbons, these endearing polar bears create a prefect playful and whimsical story when there is snow falling. The large bear is approximately 37" tall; the small bear is approximately 21" tall. For this detail-oriented pattern, Gizmoplans recommends using transfer paper to keep the pattern in place while cutting it out.
To create the patterns, one needs a hand-held sabre saw and only a few select additional parts, which are outlined in the assembly instructions.
Both patterns are easy to assemble and perfect for any level of DIYer. Even for a beginner, both projects can be completed in a single afternoon. To learn more about Gizmoplans, visit their Facebook page or online at http://www.gizmoplans.com.
About Gizmoplans Gizmoplans is an online informational website that provides businesses and individuals with downloadable DIY solutions. These plans can be used to build projects for recreation, hobbies, recycling, industry, woodcrafts, metal fabrication, alternative energy and much more. Gizmoplans is also a hub for businesses and individuals to upload and sell their own plans, patterns, how-to ebooks and more. This online marketplace can benefit both the purchaser and the seller in the DIY community. To get more information on DIY plans and DIY projects, visit Gizmoplan's website at http://gizmoplans.com/.