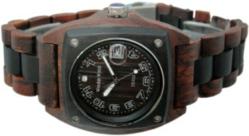 This watch is absolutely stunning. The quality and design surpassed my expectations. I am so excited to give this beautfiul gift to my son!
Los Angeles, California (PRWEB) December 07, 2012
Representing Wood, retailers of Tense Wooden Watches, is offering consumers the chance to win a wood watch. Customers may choose from a wide selection of unique watch faces and styles in order to customize a wood watch exactly to their taste. Consumers looking for unique Christmas gift ideas may participate in the sweepstakes by entering the online sweepstakes here. Sweepstakes Ninja helps companies such as Representing Wood introduce people to their product line, while giving consumers the chance to win amazing prizes. The sweepstakes is daily entry, giving consumers numerous chances to win.
Representing Wood is a family run business since 2005, specializing in various fine wooden products crafted in the United States and Canada. Their products are a very good fit for quality gift shops, galleries, museum shops, and boutiques, because customers love the wooden watches. They also have products available at wholesale cost to other retailers.
Sweepstakes Ninja gives people the chance to learn about unique companies such as Representing Wood, while at the same time giving them the chance to win prizes. People may enter the sweepstakes through the sweepstakes draws (http://www.sweepstakesninja.com/sweepstakesdraw/draw/wood-and-timber-watches-polish-pottery-and-flower-jewelry/). They are daily entry draws, that not only give people chances at winning amazing prizes, but also introduces unique companies to them. Through the sweepstakes draws, contestants have a chance of winning a unique and memorable gift from Representing Wood.
The sweepstakes promotion officially runs until January 1st, 2013. To increase their chances of winning, entrants may share sweepstakes links with friends, family, and through social media. This is a win-win situation for both Representing Wood and the entrant. Entrants increase their chances of winning award winning products, and more people learn about their wooden watch product line.
About SweepstakesNinja.com
SweepstakesNinja.com designs fun and interactive sweepstakes. The company matches consumers with companies, in a fun and interactive manner. Entrants have the chance of winning amazing prizes, and have fun participating in the sweepstakes. Companies benefit from exposure to their brands, word of mouth advertising, customer loyalty, and long term increases in profit. For more details, visit http://www.sweepstakesninja.com/