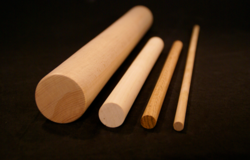 "We've added to the list of materials we can provide dowels in to include standard woods like oak and pine, as well as hardwood dowels such as birch, ash, maple, and poplar."
Westbrook, ME (PRWEB) July 30, 2012
According to H.A. Stiles Vice President, Steve Parrish, the ubiquity of wood in industries across the country has helped the dowel company thrive for over a century. He adds, "Wood products are found everywhere, and that's given us the opportunity to continually improve and add to the variety we can offer to customers that require wood dowels."
As H.A. Stiles finds itself in its 101st year, Parrish explains that the company continues to expand on the variety of wood dowels available for clients, ranging from furniture manufacturers and hardware suppliers to tool and toy makers.
"The variety of businesses we deal with speaks to how widespread the need for wood dowels is. We see wood dowels in everything from mallet handles and broomsticks to toy cars and gymnastic equipment. Fortunately, wood is reliable and inexpensive, and we don't foresee it losing favor in the manufacturing community."
In the past years, H.A. Stiles has improved its ability to provide the variety of dowels required by the industries it serves. Parrish explains, "We've added to the list of materials we can provide dowels in to include standard woods like oak and pine, as well as hardwood dowels such as birch, ash, maple, and poplar."
In addition to new materials, Parrish also explains that the dowel supplier has also expanded the variety of secondary operations available to customers to include cutting, finishing, branding, and a number of alterations to the shape and geometry of every wooden dowel.
About H.A. Stiles
H.A. Stiles was established in 1911 as a wood product supplier for both the industrial and consumer sectors by Harry Stiles, in Massachusetts. Since then, the company has become a nationwide supplier of wood components ranging from wood dowels, turnings, and moldings to flatwork, boxes, and more. For more information, contact H.A. Stiles at 207.854.8458 or visit http://www.hastiles.com