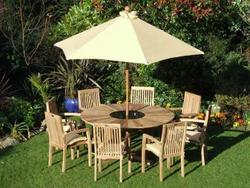 Whether your primary concern is safety, saving money, going green, or even just keeping garden furniture looking its best, outdoor wooden furniture care is important
Elstree, UK (PRWEB) July 10, 2008
Some owners of garden and patio furniture only think about its maintenance two times during the year - when they pull it out at the beginning of the warm season and when they cover it up or put it away for the fall and winter. Not properly caring for outdoor furniture (especially wooden furniture) can lead to several problems. This year, UK's Faraway Furniture (an online garden furniture company) is offering free tips for maintaining wooden outdoor furniture year-round.
"Whether your primary concern is safety, saving money, going green, or even just keeping garden furniture looking its best, outdoor wooden furniture care is important," says Naomi Aharony of Faraway Furniture. "Some consumers mistakenly believe outdoor furniture is built to handle Mother Nature, and can therefore weather anything. Others simply don't think about their garden furniture when it's not in use. Yet properly maintaining wooden garden furniture can be a plus for consumers in several ways - they don't have to worry about decay and splintering which can cause injuries, their garden furniture will always look great when they're entertaining, and by not having to replace the furniture as often they can both save money and save trees."
Faraway Furniture offers the following free tips to help consumers better maintain their outdoor wooden garden furniture:
1. Cover it Up - During the cold months when garden furniture won't be used for outdoor entertaining, try to store it in a roofed area (a garage or even on a covered porch). This will help to protect it from things like rain and snow (a moisture accumulation weighing on wood furniture can lead to warping). If there is no roofed area available for storage, cover the furniture in the off-season (and even during summer months when it's not being used to protect it from rain or sun discolouration).
2. Treat the Wood - Many woods will need to be chemically treated in some way to improve their longevity outdoors. Other woods (such as high grade teak) contain enough natural oils that they aren't required to be treated (making them a better option for those wanting to go a greener route by avoiding toxic chemicals in finishes and lacquers).
3. Keep it Clean - If something is spilled on a wooden table or other piece of outdoor garden furniture, clean it up as soon as possible. Some types of foods and beverages will stain the wood or ruin the finish - it can even attract pest problems if left too long. On top of this kind of spot cleaning, wipe the wooden furniture down regularly to remove unseen dirt accumulations (be sure to follow the manufacturer's instructions as different types of woods and finishes may require different cleaning materials or frequencies).
Taking better care of wooden outdoor garden furniture now can help it last for years or even generations.
About Faraway Furniture:
Faraway Furniture, launched in 2003, offers exclusive and exotic collections of outdoor garden furniture and home furniture from the finest sustainable resources. The company prides itself on creating beautiful and practical contemporary designs crafted from durable teak and other woods. In addition to an emphasis on customer service, Faraway Furniture helps customers "live green" by allowing them to feel good about their purchases knowing the company directly helps to replenish the resources used in the creation of their furniture through the planting over 2500 trees so far.
For more information about Faraway Furniture or maintaining outdoor wooden garden furniture, please visit http://www.FarawayFurniture.co.uk or contact Naomi Aharony at 0845 2342323.
###