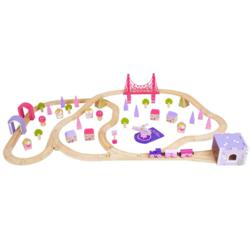 These high-quality wooden train sets from Bigjigs Rail inspire creative play by making children "conductors" of their own imaginary worlds.
Grantsville, MD (PRWEB) March 30, 2012
Bigjigs® Toys, which arrived in the U.S. specialty toy market in 2011 to rave reviews from toy retailers and parents, has expanded its Bigjigs® Rail product line of wooden train sets and railway systems.
Bigjigs Rail is known for offering a high-quality wooden railway range at affordable prices and was voted Best Wooden Toy in the 2011 Independent Toy Awards held by Toy Shop UK. With train sets, wooden engines, tracks, train tables, accessories and more, Bigjigs Rail is the perfect choice for any wooden railway collection.
Bigjigs Rail is compatible with other wooden railway systems, which means parents can add unique Bigjigs Rail products such as the best-selling Princess Train or the new Bigjigs Rail Name collection to their child's existing toy train collections.
Bigjigs Rail Name, a best-seller in the European market, offers a colorful, personalized product for every railway "engineer" aged 3 years and up. These personalized trains make an excellent gift for beginning readers.
Bigjigs Rail sets are designed for hours of imaginative play. These high-quality wooden trains spark imagination and inspire creativity by making children "conductors" of their own world. Other notable new products include the enchanting Bigjigs Fairy Town Train Set and the innovative Railway Station Carry Train Set. The Fairy Town Train Set is a 75 piece pastel-colored set combining magical houses, fairies and trees with a train and carriages fit for a princess. The Railway Station Carry Train Set is the ideal travel toy since all 40 pieces fit fully inside the train station after use.
The Bigjigs Rail and Bigjigs Heritage Playsets collections are available for sale online and in specialty toy retailers.
About Bigjigs Toys:
Established in 1985, Bigjigs Toys is a family business with a passion for good quality wooden toys. Over the last 25 years, we have grown into an extended Bigjigs family through a team of dedicated, knowledgable staff. Our range includes the best selling Bigjigs Rail range and the fantastic Bigjigs Heritage Playsets collection.