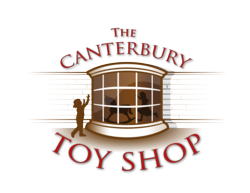 I wouldn't describe our toys as old fashioned. Old fashioned and traditional are not the same thing!
Canterbury, Kent (PRWEB UK) 10 November 2011
Recent weeks saw the launch of The Canterbury Toy Shop, an online store exclusively stocking a contemporary range of classic toys. Here you'll find a wooden toy toaster alongside a easy to construct wooden work bench and can fall in love with a beautiful wooden rocking horse. Stocking toys from the likes of Brio, Plan Toys, I'm Toy, EverEarth and KidKraft, this Internet emporium, founded and run by Kent based Mum Ashleigh Lawrence, has already won over today's young families and older generations alike.
Marie Girdlestone, Mum to baby Oliver says "I love the toys available from The Canterbury Toy Shop. I am in the process of drawing up a list of items that I would like to buy for my son's birthday and Christmas. The website is well laid out and easy to navigate which has made the experience so much more enjoyable".
The Canterbury Toy Shop ships to customers throughout the UK, and works with suppliers to hand pick the very best toys that may not be widely available on the High Street.
"I love wooden toys," explains Ashleigh, "and having an 18 month old son myself it's important to me that he has toys that will last and won't lose their appeal. Economically it makes sense to buy toys that will be loved by any further children that we have in the future. The wooden toys that I have bought for my son should still be going strong for my Grandchildren, and Great Grandchildren and this is one of the greatest appeals of good quality wooden toys. When my son, Sebastian, got to an age where I began to think about going back to work, or starting a business of my own, I knew that my passion for seeking the best toys for him could make for a fantastic business making these toys available to other people with similar tastes. "
The skill of producing wooden toys is centuries old, archaeologists have discovered evidence of Ancient Roman children playing with wooden horses and chariots. Wooden toys are often simple in their design, made in limited numbers compared to their plastic cousins, and as such rarely go out of fashion. They are enjoyed as much today as they were thousands of years ago, and perhaps it is this sense of heritage, and returning to something both simple and enjoyable, that has brought about a recent rise in the demand for wooden toys.
"Wooden toys are certainly seeing a period of strong popularity" Ashleigh agrees, "Almost everyone that I've spoken to in relation to The Canterbury Toy Shop has expressed an enthusiasm for the types of toys that we stock. We like to think of these as heritage toys, traditional toys in many ways, but a lot of them have a really modern take on what children enjoy and what they want to play with. I wouldn't describe our toys as old fashioned. Old fashioned and traditional are not the same thing! For example, we stock a gorgeous wooden dolls house. The wooden dolls house is an idea that's been around for centuries, but this one has a wind turbine, solar panels on the roof and a recycling area too. We appreciate that people want contemporary toys that are relevant to what their children are seeing all around them, which is why we've been so selective in the toys that we stock."
The response to the opening of The Canterbury Toy Shop further validates the public demand for good quality toys over other cheaper and more convenient options.
One customer, Carly East, has a 3 year old step son Jack, and mentioned; "The Canterbury Toy Shop offers some of the most beautiful, timeless toys I have ever seen. Toys like these can be passed down through generations and their character and charm will never go out of style; unlike their plastic counterparts."
Natalie Rodderick from Berkshire bought a gift for a friend's baby on his 1st birthday from The Canterbury Toy Shop; "I wanted something very traditional and I absolutely adore wooden toys as they last so much longer and can actually become an heirloom as opposed to the plastic alternatives these days which easily break! I chose the "Punch and Drop", and with quick delivery and on top of the friendly and helpful customer service, I will certainly use them [The Canterbury Toy Shop] again. I love everything on the site and now have a huge list of items that I am planning on buying in the future for my own son. I have yet to find better quality all under one roof (or site!)"
Ashleigh has plans to continue to develop the shop as demand for these items grows, "I'm working with a very talented lady who knits rag dolls and other characters. We'll have a range of knitted toys that shall be exclusive to The Canterbury Toy Shop and people are already excited to see this collection when it's ready. We've also got a brand new line of wooden kitchens coming soon and they are big, beautiful toys, I can't wait to receive the feedback from our customers, they'll steal the show on the website when we preview them.
Browse http://www.canterburytoyshop.com or keep up to date on new products, offers and competitions at http://www.facebook.com/canterburytoys or on http://www.twitter.com/CanterburyToys
###