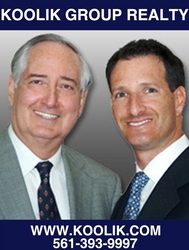 Boca Raton, FL (PRWEB) June 17, 2010 -
Elliot Koolik, a leading Boca Raton real estate agent with Koolik Group Realty, is putting out crucial information to remind South Florida residents of hurricane season. His clients in Boca Raton's Woodfield Country Club, The Oaks and other gated communities often have special guidelines to follow depending on their associations. According to several published reports, this year will be one of the most active storm seasons on record.
Five Simple Tips For Hurricane Season In Florida Include:

Review Insurance Policies For Flood Insurance - Woodfield Country Club In Boca Raton; as well as, other communities have specific insurance guidelines that residents must follow
Ensure Proper Impact Resistant Garage Doors and Windows Along With Hurricane Shutters - Having these will help minimize damage done to a house
Hurricane-proof Your Yard - Check with your association to see what is needed by homeowners in addition to the pick up days for trash
Have An Emergency Plan Ready
Prepare A Disaster Supply Kit For up to seven days of food and water
Pack Day to Day Essentials that do not require power - can opener, flashlights, cash, toiletries and hygiene items
About Koolik Group Realty:
Koolik Group Realty are recognized as one of the top Boca Raton real estate brokers specializing in homes for sale in Florida including oceanfront homes and country club communities such as Woodfield Country Club in Boca Raton, Mizner Country Club, The Oaks, and St. Andrews Country Club. While the Koolik Group real estate agents are active in all of Palm Beach County, they focus on greater Boca Raton, Delray Beach and Highland Beach. The team has sold over $440 million dollars in real estate by offering their clients a unique marketing plan for their home and an unparalleled level of customer service. For more information about the group, please visit http://www.koolik.com.
###