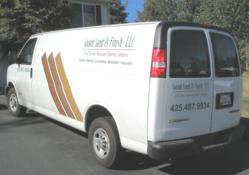 It's not just paper or plastic
Bothell, Washington (PRWEB) December 21, 2012
"It's not just paper or plastic" says Brian Johnston, managing member of Sound Sand & Finish, poking fun at the recent slump in public perception of what it means to be green, while addressing the difficult decision that consumers are faced with when attempting to choose the appropriate finish.
Installing a hardwood floor or refinishing it represents a serious investment. The factors to account for include the time spent acquiring bids, cost of materials, the price of services, the intangible inconvenience that's seemingly inseparable from in-home construction and of course the applicable taxes.
Once the consumer has evaluated the cost and has decided to proceed, "They're looking for more than just a warm and fuzzy feeling they might receive when participating in the recycling movement," Brian pointed out while further teasing the trend of misconceptions. "Our customers are usually far more concerned with the assurance of durability in effort protect their investment as opposed to whether or not we happen to be green." (spoiler alert: they're not mutually exclusive)
Unfortunately, Sound Sand & Finish is not alone in it's struggle to convey their company's message of responsibility when describing their service as "green". Over time, the term has slowly been reversed in it's meaning, now lifeless and dull. It's constant exposure has become droning and repetitive, leaving some people feeling simply tired of the notion. Worse yet, others are now starting to perceive the concept as an agenda that they're being forced fed, and causing an instinctive rejection.
This might be a result of its overuse to support a particular cause or movement. It could also be the byproduct of its transition in becoming a marketing buzzword. Or yet another possibility, is that it's been caused by the backlash from the many things that are falsely purporting to be green in an attempt to profit from it's buzz. Sadly, this practice has recently been happening with enough regularity to earn its own term which some are now referring to as "greenwashing". It appears Kermit the frog has turned out to be right, now more than ever, "It's not easy being..."
In order to reclaim this term and perform a proper restoration for things considered "green", it's necessary to reassert the 3 major components it was intended to represent.
The first of these components being health. If a product or service adversely effects one's health, it simply isn't green. As this pertains hardwood flooring, indoor air quality is of major concern. There have been a number of recent studies which indicate some alarming conclusions regarding toxicity levels found in the average home, especially post construction. Wood dust in and of itself is toxic and should be handled with care. However, of even greater concern is the floor finishes that are still widely available and regularly being used. Some of which are considered extreme in terms of hazards they pose for people's health and are in need of serious reevaluation.
The second of which, and probably most obvious, is the environment. The materials that are used and the ingredients contained in products sold must be sustainable to qualify. In addition, there must be significant efforts made to reduce the amount of pollution they create. As it relates to wood floor refinishing, the VOCs that are released from the finish that is used while applying it and throughout it's curing process have significant impacts on outdoor air quality as well. The EPA has found these toxins to be a major contributing source in creating smog and other related problems.
The third, and all to often forgotten piece to the puzzle, is financial gain. If it doesn't present tangible savings for the consumer, it's not worthy of the green distinction. Usually this comes in the form of an initial increase in price that is then recovered in long term savings to account for the benefit. This is perhaps most commonly understood when shopping for appliances, thanks impart to affiliations such as energy star, but it also applies to other things like hardwood flooring as well. While the price per gallon of 2 component water based is roughly twice that of it's solvent counterpart, and is relatively small when factoring the overall cost of the project, its properties in durability and chemical resistance far exceed that of it's competition.
Sound Sand & Finish, LLC is a full service hardwood flooring company located in Bothell, Washington that offers quality installations, seamless repairs & expert wood floor refinishing services performed with cleanliness and care. Since 2002, this company has been applying the green principles and methodology to their services by utilizing water based floor finishing products and using hardwood materials deemed sustainable through responsible foresting and verified by the Forest Stewardship Council (FSC). For more information call (425) 487-9934, or visit http://soundsandfinish.com today.