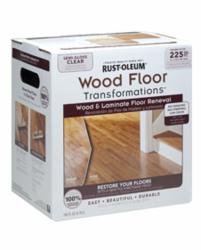 Renew Worn Wood and Laminate Floors in One Day with Rust-Oleum Wood Floor Transformations
Issaquah, WA (PRWEB) January 15, 2013
DIY projects seem to be everywhere we look. Nowadays one cannot turn on the TV anymore and not see a DIY project. Whether someone is renovating a home, garden, kitchen, bath, car, boat, RV, whatever the case may be, DIY happens. Some projects are far more complicated than others without question. The one area that most people shy away from is wood flooring. However, with innovation of product comes a great deal of simplicity!
Rust-Oleum, a trusted name, brand, and product. Trust for commercial and individual use alike. People, especially people with the beauty of hardwood floors, know that "traffic" happens. Traffic that will lead to scuffs, wear, and tear! In different times, repairing and finishing wood floors was a huge task. Task that requires sanding, stripping, matching, buffing, and drying. Plus without expert knowledge in this area we could find different colors, discoloration, and wood warp. Rust-Oleum has changed all that!
Rust-Oleum Senior Brand Manager Ann Gearty: "Rust-Oleum Wood Floor Transformation Kit can bring back style, luster, and durability to ANY floor, including the high traffic areas."
Powerful statement and endorsement of the product for sure. The fact is Rust-Oleum has given the DIY'ers the chance to complete wood flooring projects in less than 24 hours. The floor can be ready for light use the very next day, and for heavy use in seven days!! The semi-gloss finish successfully brings back the floor's original shine without discoloration! DIY'ers listen up to what you get in the Rust-Oleum Kit:

Product to complete a 15x15 area.
No sanding refinishing prep.
Clear floor finish.
Applicator block.
Applicator pad.
Stir sticks.
Easy to use and understand instructions.
Here is the deal. Rust-Oleum, provides a 100% satisfaction guarantee with dedicated support to your project. Total DIY support.
Look gone are the days of equipment renting, hiring expensive carpenters, and running back and forth to the hardware store for MORE stuff needed. It gives a crystal clear, semi-gloss finish in just one weekend!
Solutions and projects are not one size fits all, nor are our clients. Online Hardware Store Thehardwarecity.com takes the unique approach of blending new technology, new models of shopping, ease & convenience along with all the support and information people need to be successful with their current and future projects.