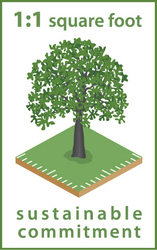 "Home builders should do what they can to be environmentally responsible—and to proactively pursue a common sense approach to sustainable construction." Dan Paquette Chief Sustainability Officer Woodmeister Master Builders
Boston, MA, Nantucket, MA, Newport, RI and New York, NY (PRWEB) April 22, 2010
Today, on the 40th anniversary of Earth Day, Woodmeister Master Builders (award-winning provider of fine residential construction, custom cabinetry and interiors, and lifestyle management services), announced The Woodmeister 1:1 Sustainable Commitment ---the company's pledge to preserve one square foot of native, forest land for every square foot of new buildings it constructs or remodels.
Within the past calendar year (2009-2010), Woodmeister Master Builders completed 88,313 square feet of construction work on residences across the Northeastern U.S.—from Maine to New York City; in Rhode Island, and on Massachusetts homes in Metro Boston, Martha's Vineyard, Nantucket and elsewhere. In support of its 1:1 Sustainable Commitment (announced today,) Woodmeister will permanently preserve 2.03 acres of conservation forest—an amount equal to its construction footage. This natural, wooded acreage will sequester a total of 41,366.60 pounds of CO2 every year-- the equivalent of 2,010.71 gallons of gasoline saved annually!
"Since the forest protected through our One-to-One Sustainable Commitment can never be developed, the environmental benefits it creates will continue forever," said Daniel Paquette, Chief Sustainability Officer, Woodmeister Master Builders. "Woodmeister's One-to-One Commitment is the expression of our belief that home builders should do what they can to be environmentally responsible—and to proactively pursue a common sense approach to sustainable construction."
Through its Rational Sustainability initiative, Woodmeister works with architects, designers, and clients themselves to make "green building" choices such as sustainable design, renewable energy sources, site orientation, open space preservation, and resource efficient products. Through the use of the most advanced green building products, technologies, certifications, and strategies available, the environmental impact of home building and remodeling can be reduced, and the carbon footprint of residences lowered.
For more information and to see videos on Woodmeister's Rational Sustainability approach to green building go to: http://www.woodmeister.com/home/rational_sustainability/
About Woodmeister Master Builders
Founded in 1980 as a two-man custom cabinetry and millwork shop, Woodmeister Master Builders today employs 163 people (150 in Massachusetts) and has sales of over $50 million. In addition to receiving the Globe 100's Top Places to Work honor in 2008 and 2009, the company was named a 2009 Top Small Workplace by The Wall Street Journal and Winning Workplaces, a non-profit organization that helps small and mid-size companies improve their workplace practices. Woodmeister encompasses the entire scope of fine home construction and renovation projects, custom cabinetry and interiors, and comprehensive lifestyle management services. The firm is based in Holden, Massachusetts and has satellite offices in Nantucket, Newport, RI, and New York City. http://www.woodmeister.com
Press Contact: Patrick Rafter patrick(dot)rafter(at)woodmeister(dot)com 617-901-2697
Tags: Sustainability, Green, Green Building, Home Construction, Rational Sustainability,
Woodmeister Master Builders, Green Living, Massachusetts, Earth Day 2010, Conservation,
Environment, forestry, Innovation, Award-Winning, Homebuilder
###