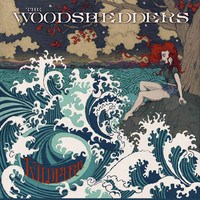 "These guys are good, know they're good, and take the kind of chances that will leave your flabber well and truly gasted when you're not throwing down dance steps like a backwoods preacher who's got the Holy Spirit." - David Burke, R2 Rock N' Reel Magazine
(PRWEB) February 04, 2014
The Woodshedders bring the influence of vintage American music forward in its songwriting with a sound sure to be embraced by fans of The Band, Andrew Bird, Jack White, Creedence Clearwater Revival, Mumford & Sons, and The Avett Brothers. The end of 2013 brought the release of The Woodshedders' all-original album, Wildfire, a storybook ramble that explores the band's diverse roots music influences, and spotlights its virtuosic members. The Woodshedders, known for fun, danceable shows that swerve between different genres to create exciting original sounds, have played Bristol Rhythm and Roots Festival, Mountain Stage New Song Fest, PBS Song of the Mountains, WAMU's Capital Americana, and are the host band of Virginia's Watermelon Park Fest.
Wildfire's opening track, "Highway," sets the listener on the road of travel, hope, and heartbreak, as singer and guitarist Dwayne Brooke sets the tone of the album with charismatic vocals and lyricism. Lead guitarist and mandolinist Jared Pool's original tune, "Keel Reel," is a rowdy flatpicking instrumental that rides the line of traditional and modern bluegrass, and further highlights The Woodshedders' dynamic sound. Jesse Shultzaberger (drums) and Ryan Mayo (bass, piano) lay down deep, cohesive grooves throughout Wildfire; this is especially felt on "O Dig," a funky, off-kilter dance number. Fiddlin' Dave Van Deventer elevates the tension to new heights on "Phantom on the Highway," as the '60s era Leslie organ speaker haunts the sound of the wild and raucous fiddle. The Woodshedders' songs evoke a gang of happy vibes, all while delivering tendrils of realism, and contemplation. The band is known for their upbeat live shows that get fans dancing, and caught up in the wild and rowdy telling of its tales.
Wildfire was recorded in 2013 in Richmond, VA at Montrose Studios by Adrian Olsen, and mastered by Dan Coutant at Sun Room Audio in Hudson, NY. Wildfire truly encompasses the best elements of traditional roots music: simplicity, storytelling, honesty, accessibility, and use of traditional instruments, and brings them forward in relevant, contemporary songs.
You can learn more about The Woodshedders at http://www.thewoodshedders.com.