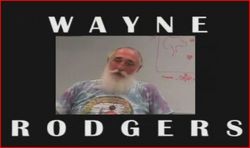 Haymarket, VA (PRWEB) August 11, 2009
Forty years later, that tall hippie, Wayne Rodgers, is not only alive and well ("life is good", he often says); but he's a walking, talking treasure trove of stories of the hippest generation. Take his Woodstock Story: It begins two weeks earlier, at the Atlantic City Pop Festival, where he and his friend Angel, hiding behind the stage because they just let hundreds of ticketless people in by taking a side gate off its hinges with a crescent wrench, agree to help the Festival Group load some sound equipment into a truck. For their efforts, they wind up with a paying gig at Woodstock, three days of fun and music, very little sleep, one random encounter with a camera crew, and a helicopter ride back to the hotel in Monticello while Jimi Hendrix is playing on Monday morning.
Wayne's stories, though, began years before Woodstock, hanging out on the streets of Georgetown in the 60's, where everybody in the know knew him as Turkey. He was there at Wisconsin and M Streets protesting when the American Nazi Party marched through Georgetown, and wound up in a holding cell with 18 of them. Twenty blocks away, in a fit of exuberance and revolutionary spirit upon hearing Jefferson Airplane's "Volunteers" for the first time, it seemed like a good idea to toss a few firecrackers onto the White House lawn. The Secret Service was not amused.
In some ways, it's like Wayne never left the 60's. As mentioned in the August 9th Washington Post Style section article, he lives a few miles outside Woodstock, though it's the one in Virginia, not New York. He sports a long white beard that would look at home in ZZ Top, rides a Harley, wears a "Say No to Hate" button wherever he goes, and is going to give you a big hug when he meets you. For the past 20 years, he's run a 501(c) non-profit, Coalition Against Hunger, http://www.FeedThePeople.org to feed those who have fallen through the cracks of society. Wayne considers this a continuation of what the hippies were trying to do in the 60's: take care of each other and make the world a better place.
Wayne's appearance as the Port-O-San guy certainly didn't bring him fame or fortune, and the notoriety he achieved seemed to be mostly with cops all over the country, who for the next few years all wanted to be able to brag to their friends that they'd messed with that hippie from the movie. The world has changed a lot since then, and a lot of the change came about because of what happened in the 60's. The hippies didn't achieve their dream of a world of peace, love and understanding, but they helped move us all in that direction. The hippest generation is disappearing, dying early because of their lifestyle, and when they're gone, we'll have only the Hollywood version of the 60's. But as long as there are people like Wayne Rodgers around, people who lived the hippe life and lived to tell about it, the dream will continue to live.
You can catch up with Wayne at several charity events where he will be helping to raise money for causes that are near and dear to his heart. Hungry For Music is one such non-profit organization that donates musical instruments to underprivileged children. Hungry For Music is holding a motorcycle raffle for a Sturgis built custom Chopper dubbed the Pirate Bike which will be raffled off at the Night of 100 Elvises on December 5th. Look for Wayne and the bike at the event and be sure to pick up a few raffle tickets to support this worthy cause. You may even be lucky enough to hear about the original Woodstock stories from the Port-O-San Man himself.
# # #