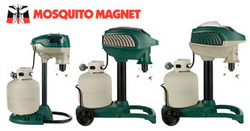 Not long after the acquisition, we optimized and upgraded the Mosquito Magnet product line and introduced three new models and our exclusive 360 Degree Customer Support program
Lititz, PA (Vocus) March 18, 2010
Upon acquisition of the Mosquito Magnet line of products -- including the Defender, Liberty and Liberty Plus models and the Mosquito Magnet accessories -- Woodstream immediately began analyzing, reassessing and optimizing the traps and their components. This resulted in an upgrade of a patented, high-tech mosquito trap scientifically proven to disrupt mosquito breeding cycles, making the nuisance and discomfort of mosquitoes and biting insects a thing of the past for homeowners who use a Mosquito Magnet in their yard.
As Woodstream continued to optimize the brand, three new mosquito traps were envisioned and produced – the Patriot, Independence and Executive models. All three traps are supported by proven technology and 360 Degree Customer Support.
Mosquito Magnet traps use patented CounterFlow™ Technology to emit a stream of carbon dioxide, produced by an ordinary propane tank through a flameless catalytic conversion process; the carbon dioxide, which mimics human breath, initially attracts the mosquitoes. As they near the Mosquito Magnet, they are further drawn in by the short-range attractant released in the carbon dioxide. Not leaving anything to chance, the Mosquito Magnet captures the mosquitoes in a vacuum and pulls them into the device's net, where they dehydrate and die within 24 hours.
Placed between mosquito breeding areas -- commonly standing water, bushes and shrubs -- and human activity, the Mosquito Magnet controls mosquitoes all season long.
"Not long after the acquisition, we optimized and upgraded the Mosquito Magnet product line and introduced three new models and our exclusive 360 Degree Customer Support program," explained Andy Long, Brand Manager. "We are dedicated to providing superior products and superior consumer care -- by phone, online, and in person."
"Mosquito Magnet was a solid product to begin with," Long said. "Woodstream simply refined the product to make it the industry-leading technology it is today."
Woodstream offers demo videos, an interactive program that helps consumers choose the right placement for their Mosquito Magnet, a library of informational articles and more at MosquitoMagnet.com.
To learn more, please visit:
MosquitoMagnet.com
Read Mosquito Magnet Reviews
New Mosquito Magnet® Traps
Woodstream.com
About Mosquito Magnet®:
Mosquito Magnet® is the leading biting insect trap in the consumer/residential market and is the only long-term solution that is scientifically proven to effectively reduce mosquitoes and other biting insects.
Pioneering accomplishments:

The first carbon dioxide-based biting insect trap for commercial use
The first propane-powered mosquito trap for consumer use
Lurex3™, the first and only EPA-approved attractant specifically formulated to capture the invasive Asian Tiger Mosquito, a known carrier of West Nile Virus
Patented lure cartridges to gradually release measured amounts of attractants, an advanced design to ensure cartridge replacement and propane refilling are synchronized
Invented the Counterflow™ Technology, designed to emit a precise amount of carbon dioxide, heat, attractant and moisture, while simultaneously vacuuming insects into a net, taking advantage of the mosquito's instinct to turn upwards as it approaches the trap
About Woodstream Corp:
Woodstream Corporation is a long-standing, privately held company and a leading manufacturer and marketer of quality-branded wild bird feeders, rodent control products, caring control products for pets and wildlife, decorative garden accents & natural solutions for lawn and gardens.
# # #