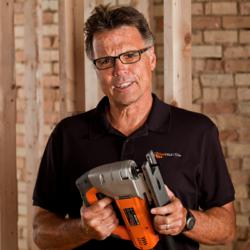 With an unmatched combination of accuracy, power, comfort and convenience, these jig saws leave little to be desired
Grand Rapids, MI (PRWEB) July 02, 2012
The launch of two new Bosch jig saws is keeping the discussion going on ToolSelect as to what exactly are the best woodworking tools. In July, Bosch will release a top-handle jig saw and a barrel-grip jig saw, both designed for enhanced accuracy.
Each saw features Bosch's patented Precision Control™ II system, which uses double-roller blade guides in a gold-colored guidance assembly, giving users more control that the previous Precision Control™ system. The additional upper roller minimizes deflection above and below the lower roller, and an auto-centering function self-adjusts to keep blades firmly within the rollers, even during strenuous cuts.
"With an unmatched combination of accuracy, power, comfort and convenience, these jig saws leave little to be desired," said Brandon Eble, product manager with Bosch. "They will become the gold standard in professional jig saws."
Both jig saws have a 7.2 amp rating, giving them plenty of power for just about any jig-saw application required by carpenters, cabinetmakers, kitchen installers, trade-show builders, residential builders, mechanics, renovators and more.
With variable speed, users can use each saw at the appropriate speed, and the top-handle saw also has an accelerator trigger to control the adjustment from the saw's lowest speed to the operating speed. A tool-less blade-change system makes it easy to insert T-shank blades, and a blade-ejection lever means users never have to touch a hot blade.
"Woodworking tools are an extremely popular category in our community, because so many people work with wood professionally or as a hobby," says Stephen Glaesman, CEO of ToolSelect. "Bosch is obviously confident in their new top-of-the-line jig saws, and we're excited to see what our community thinks once they get their hands on them."
About ToolSelect
ToolSelect is an unbiased community powered by its members that covers all aspects, types and brands of tools, but does not actually sell any tools. ToolSelect's members include everyone from experienced tradesmen to complete novices. Users trade tips, compare notes, debate their favorite tools and work together to help each other make intelligent purchasing decisions.
Like ToolSelect on Facebook (ToolSelect)
Subscribe to ToolSelect on YouTube (toolselecttv)
Follow ToolSelect on Twitter (toolselectmedia)
###