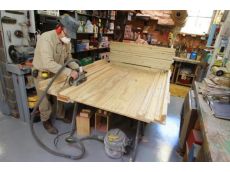 Some people are addicted to cigarettes or alcohol or food," Hartman says. "Me? I'm addicted to sawdust. I have to have a snort of sawdust every day.
Gloucester, Ma (PRWEB) February 29, 2012
Retired chiropractor, Randall Hartman, joins 1-800-BunkBed, LLC. Dr. Hartman, a longtime woodworking hobbyist, decided to join 1-800-BunkBed, LLC in December of 2011. Looking for a business where he can pursue his passion for woodworking, without sacrificing time for his family, Hartman has found the ideal match. Hartman adds to the growing list of retirees operating their own 1-800-BunkBed, LLC business. According to president and founder Jim Rees, the national woodworking business has well over 50 licensed business owners who range in age from 65 - 85. "What I typically hear from retired woodworkers is that they want to remain active but not to the point of running a full time business. Our company provides the ideal woodworking business opportunity for them because of its flexible structure. People who come onboard our program are allowed to run this business full or part time. For that reason it is a natural fit for retirees who want to remain active," states Rees. Mr. Hartman is a retired doctor who has a passion for woodworking and is representative of the retirees who enjoy building bunk beds utilizing 1-800-BunkBed,LLC's bunk bed plans and its nationally proven woodworking business model.
1-800-Bunkbed LLC provides a low-cost opportunity for people to run their own nationally recognized bunk bed business right from their own home or shop. As a proven woodworking business opportunity with over 17 years of flawless customer service,(1-800-BunkBed, LLC has never had a single complaint with the BBB), 1-800-Bunkbed, LLC makes it easy for anyone to run their own home woodworking business and enjoy financial independence. To learn more about this home woodworking business opportunity, please visit http://www.1800bunkbed.com or call 603-347-8332.
###