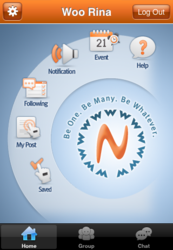 (PRWEB) September 08, 2012
Heu World Inc. today introduces Woo Rina, a social networking service (SNS) service for iOS and Android app and the Web with an emphasis on making groups to plan events and stay in contact with friends, family and colleagues. Woo Rina features an adaptive group feature that allows users to make both secret groups that will be private by invitation only and open groups for anyone to join. Users can connect with friends via Woo Rina and chat through the app and Web with them, make their own posts, create events for a group, share files with a group cloud, follow other users to view their posts and much more on this new social network.
Feature Highlights:

Features Secret or Open groups
Way to reconnect with friends/family or make new friends
A different profile for each group can be set
Make posts or follow other users to view posts or save posts of others
Easy place to create and share upcoming events with a map
Chat with attendees of events and send your current location to them
Notification technology reminds users through alerts, which can be set for each joined group
Share important posts from groups to groups
Send a user's current location to friends with advanced location technology
Cloud based to upload or download any file less than 10 MB within groups for free
The emphasis on the group feature of Woo Rina serves to set it apart from similar applications; users' groups are the main focus of the app. Users may create Secret Groups; these are invitation only, made for already known friends, family and colleagues. The information in these groups cannot be shared or found in a search, providing complete security for these users. Open Groups, however, are also available for those who want to invite anyone to join and make new friends. The information in these groups can be shared and searched for, and anyone is free to join.
Users can create events within any of their groups, by simply clicking the plus button in the event tab. They may then add a title, time, specific group, and location to the event to let their friends and family know the specifics. The location can be set using the device's advanced location technology and shared on the site at the user's option. Invitees can select RSVPs, and attendees can chat and send current location with a map which is useful when someone is late at the meeting.
Friends can connect via Woo Rina by making requests to be Friends in open groups. Inviting and accepting, for joining open groups, is another way users will become Friends. In secret groups, all members are friends. When users are Friends, they may then take advantage of the Chat feature on the app and the Web, which allows for easy, fun discourse between friends online.
Users can easily view what is going on with their friends through their posts, as well. They can write their own posts, or, if they see a post by a Friend they enjoy, they can Share the post in any select group, or Save the post to a special place, available for view in the Saved tab. Though Woo Rina is a great place for making new friends and encourages friendly discourse, the service also features a simple Block option, so that users may easily Block the posts of anyone they feel is making their experience less pleasant.
One of the truly remarkable features that sets Woo Rina apart from similar social networking apps is its Cloud feature. This allows users to easily upload and download any file less than 10 MB in any chosen group. This feature makes Woo Rina great for work with colleagues as well as family and friends sharing documents or images or any file. A free 1GB of space is provided for each group that has two or more members, providing easy sharing through the web and the app.
Woo Rina's Cloud feature as well as its focus on anonymity makes it an exceptional social network. The app guarantees security of information the user deems secret; users may sign into different groups with separate user names and profile pictures, to allow for a different level of formality between Secret and Open Groups. Users may deem certain information in their profile private, as well, so that not all users can view their personal information. The network does not require any email or phone number to sign up. Therefore Woo Rina is quite safe SNS from personal data spill.
Woo Rina is the place for making fun and safe connections online, and is great for connection between colleagues, new friends, family, and all your loved ones."
Pricing and Availability:
Woo Rina is free and available worldwide exclusively through the App Store in the Social Networking category, the Google Play in the Social, and the Web.
EXTRA LINKS:
Woo Rina Web
http://www.woorina.com
Download from iTunes
http://itunes.apple.com/app/woo-rina/id510289069
Download from Google Play
https://play.google.com/store/apps/details?id=com.heuworld.woorina