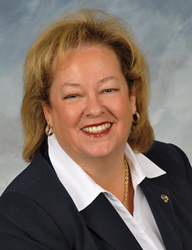 Kim Marie brings such amazing energy, passion and focus to LeTip
Mesa, AZ (Vocus) March 11, 2010
LeTip International, a leader in the professional business referral industry, announced that President and CEO, Kim Marie Branch-Pettid, has been honored as one of Phoenix Business Journal's 2010 Top 12 Women in Business. The group of 12 were chosen from a cross-section of industries based on their leadership abilities, decisiveness, commitment to community and career accomplishments. The annual event will feature a new "walk-about" luncheon format and trade show from 10:00 a.m. to 12:30 p.m. at the Scottsdale Center for the Performing Arts. An award program featuring this year's Top 12 Women in Business will follow and conclude at 2:00 p.m.
Branch-Pettid, who acquired LeTip International in 2008 from founder, Ken Peterson, is known for her commitment to building relationships and her inspiring, collaborative style. "I am extremely honored to be recognized among such an accomplished group of women," said Branch-Pettid. "This award is also a tribute to our chapter members; the small business owners, independent salespeople, and entrepreneurs who are the core of our organization," she stated.
"Kim Marie brings such amazing energy, passion and focus to LeTip," said LeTip's Executive Director, Robert Smith-Felver. "We are delighted to have her recognized for her leadership, and her steadfast commitment to LeTip members throughout North America."
About LeTip International:
LeTip International, headquartered in Mesa, AZ, is the world's largest, privately-owned, professional business leads organization. Since 1978, LeTip business networking programs have helped over 60,000 members, throughout the United States and Canada, build sustainable, and profitable business success through personal referrals. The Guiding Principle of LeTip International is to intentionally help one another prosper through mutually beneficial relationships, and thus create an economy that rewards everyone.
LeTip International's structure set the standard in the word-of-mouth referral industry. Members are known for their professionalism, dedication, and loyalty to one another.
LeTip Chapters meet weekly to exchange qualified leads, build solid business relationships, develop strong presentation skills and become proficient networkers. Only one representative of any given profession is accepted into a chapter, and members are chosen for their occupational expertise. For more information about LeTip, or to find a chapter in your area, please visit http://www.letip.com
# # #