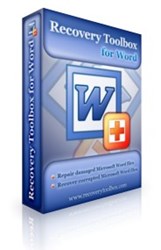 a powerful and reliable tool for extracting text from damaged Word files.
Alexandria, VA (PRWEB) October 22, 2012
Recovery Toolbox, the developer of a popular line of data management tools, including data recovery, backup and restoration solutions, releases Recovery Toolbox for Word, a fast and convenient Word repair program. Being the most intuitive and yet the most efficient text recovery solution on the market, Recovery Toolbox for Word dramatically simplifies the process of restoring text from damaged Word files in a number of formats. The program is intended for all categories of users: from system and network administrators looking for the best in class tool for regular Word repair operations to regular users in need for one-time recovery of an important document. The interface of Recovery Toolbox for Word is based on a step-by-step wizard guiding the user through the process and minimizing the risk of making a mistake.
Recovery Toolbox for Word recovers the content of standard Word documents in .doc, .docx, .dot, .dotx and .rtf formats. Users can preview recoverable texts prior to saving them to a plain text file or a standard Word document.
"Our new Word repair tool demonstrates excellent text recovery efficiency even in situations with rather serious file corruption," notes Victor Bobrov, senior product manager at Recovery Toolbox. "When the results of months of your work are at stake, getting anything out of a damaged file is luck already. Getting nearly everything or all of it is… Recovery Toolbox for Word!"
All Recovery Toolbox products are thoroughly tested with major anti-virus solutions and are 100% clean of malware of any types. The downloadable demo demonstrates all the features of the full version of the program, but doesn't save recovered texts.
About Recovery Toolbox
Founded in 2003, Recovery Toolbox is currently the leading provider of data recovery tools for a broad range of programs. The growing portfolio of Recovery Toolbox consists of over 30 award-winning solutions intended primarily for mainstream applications used by millions of people worldwide. The company is committed to creating intuitive and user-friendly tools that help regular users solve complex data recovery and migration problems on their own.
Product page: http://www.recoverytoolbox.com/word.html
Product site: http://www.recoverytoolbox.com/word.html