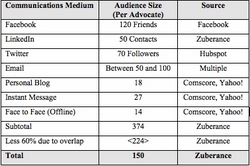 The Advocate Channel, Leveraging Word of Mouth & Social Media to Cost-Effectively Reach Millions of Consumers
San Carlos, CA (PRWEB) August 4, 2009
Marketers can cost-effectively reach and influence millions of consumers and business decision-makers via the "Advocate Channel," according to a new report issued today by Zuberance the leading Word of Mouth company.
The "Advocate Channel" combines Word of Mouth - the world's most trusted form of communications - with the reach and scale of the Social Web. The Advocate Channel leverages unpaid Advocates, consumers and business buyers who frequently recommend brands and products and are the most trusted source of information, to deliver relevant content and offers.
"Marketers and their agency partners are desperately seeking new ways to reach resistant consumers and business decision-makers. The Advocate Channel is a highly efficient yet largely untapped channel that companies can leverage now to drive qualified traffic, leads, and sales," said Rob Fuggetta, Founder & CEO of Zuberance.
Entitled "The Advocate Channel, Leveraging Word of Mouth & Social Media to Cost-Effectively Reach Millions of Consumers," the new report is the second in a ground-breaking five-part series by Zuberance on Word of Mouth Advocacy. The report is free and available now at http://www.zuberance.com/research.
An Army of Advocates
There are over 100 million Advocates worldwide, Zuberance reported in the first part of the company's research series on Word of Mouth. On average, about 40% of customers are highly likely to recommend the companies they do business with and the products and services they have purchased. This is a massive, highly influential, and under-leveraged sales and marketing weapon for brands. About 33% of customers who are highly likely to recommend brands and products will participate in company-sponsored Word of Mouth marketing programs, Zuberance's real-world experience with leading brands has shown.
Advocates Reach Millions
Empowered by Social Media, each Advocate reaches an average of 150 people, the Zuberance study shows. A company with 10,000 Advocates, for example, has the opportunity to reach 1.5 million people with trusted Word of Mouth recommendations that drive sales.
Analyzing Advocates' Reach
Zuberance determined the reach of Advocates by analyzing publicly-available audience data provided by Social Media and Word of Mouth companies and analysts. The results of this analysis are shown in the chart that accompanies this press release.
Extending Advocates' Reach
Empowered by Social Media, Advocates reach and influence actually extends beyond 150 people. For example, a positive recommendation from another user can be re-Tweeted to reach an additional 70 followers. In addition, Advocates are further amplified when they post positive reviews on shopping and review sites like Amazon, TripAdvisor, and Yelp, which collectively reach tens of millions of online shoppers.
About Zuberance
Zuberance is the leading Word of Mouth company. Global 2000 companies and others are using Zuberance's ground-breaking Word of Mouth marketing platform now to identify and mobilize their highly-satisfied customers (AKA "Advocates"), cost-effectively increasing sales. Headquartered in San Carlos, CA, Zuberance is backed by Emergence Capital Partners, the leading venture capital firm focused on early and growth-stage Technology-Enabled Services companies. For more information, visit Zuberance at http://www.zuberance.com, call 866.967.9746 or email info@zuberance.com.
Media Contact: Elizabeth Shaw, Zuberance Marketing Manager, 650.610.1190.
###