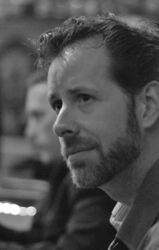 leading practitioner of the arts of customer service and marketing
Chicago (PRWEB) April 28, 2009
The Word of Mouth Marketing Association, http://www.womma.org, announced today it has appointed John Moore to the role of WOM Enthusiast, in which he will serve as the organization's chief evangelist to help generate excitement and acceptance for the practice of word-of mouth marketing (WOM) and for WOMMA's educational and advocacy services on behalf of WOM practitioners.
"John brings passion and strong credibility to WOMMA as its chief evangelist and, through his blogging and speaking, he will be a strong advocate for WOM and WOMMA in reaching out to brands to help promote WOM programs in their companies," said Kristen Smith, CAE, WOMMA's executive director.
Smith added that in his new role Moore will be a regular contributor to the popular daily WOMMA online newsletter, The WOMMA Word. He also will be a presenter at the organization's annual WOMM-U educational conference, May 13-14 in Miami Beach.
As a marketer, speaker and author, Moore shares business and marketing advice with brands seeking greater involvement and loyalty from customers. In 2005, he established the Brand Autopsy Marketing Practice, http://www.brandautopsy.com, to share lessons he has learned about marketing with passion and purpose. As a self-described "marketingologist," he helps companies of all sizes diagnose and treat common marketing ailments. Moore has been recognized by Fast Company magazine as a "leading practitioner of the arts of customer service and marketing" and is often quoted in business publications.
From 1994 through 2004, Moore worked in the marketing departments of Starbucks Coffee and Whole Foods Market. At both brands, he focused his teams on activities that were less about using traditional advertising, and more about using the influential power of devoted customers as the advertising vehicle.
"WOMMA has established itself as the leading voice for ethical and effective word of mouth marketing. I look forward to working with WOMMA to continue educating and motivating brands to better use word of mouth marketing to increase business sales and brand salience," said Moore.
WOMMA, http://www.womma.org, is the leading trade association in the marketing and advertising industries that focuses on word of mouth, consumer-generated and social media platforms -- or marketing techniques that include buzz, viral, community, and influencer marketing as well as brand blogging. The organization is committed to developing and maintaining appropriate ethical standards for marketers and advertisers engaging in such marketing practices, identifying meaningful measurement standards for such marketing practices, and defining "best practices" for the industry.
Founded in 2005, WOMMA currently has approximately 400 members. They include marketers and brands that use word-of-mouth marketing to reinforce their core customers and to reach out to new consumers, agencies that deliver word-of-mouth services and technologies, researchers that track the word-of-mouth experience and offline and online practitioners.
Contact:
Chuck Weber
(847) 705-1802
###