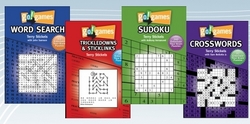 I don't know how he is able to come up with so many varied, fun and challenging puzzles. He has joined the ranks of the top puzzle writers of all time. -- The legendary Martin Gardner
Fort Worth, TX (PRWEB) September 28, 2010
Terry Stickels, an internationally syndicated puzzle writer for both USA WEEKEND Magazine and KING FEATURES, has launched four new books featuring Crosswords, Word Search, Sudoku and his own creation Sticklinks, which is coupled with his famous Trickledown puzzles.
Trickledowns are word puzzles that change one word into another -- one letter at a time -- until the reader has transformed the first word into the last. Here's an example:
PINK
PINE
PILE
PALE
SALE
Some puzzle solvers may know this type of puzzle as a "Word Ladder" or "Doublet." They were first made famous by Lewis Carroll and Stickels made them popular again when he created new puzzles for the USA WEEKEND Magazine website. Puzzles range from four-letter words to six-letter words and are all handcrafted by Stickels.
Sticklinks are puzzles that combine quotes with word searches. A quote is placed in a grid and the reader must connect the letters of the quote with a continuous line. The problem solver starts with a circled letter and draws a line from each correct letter to the next as they reveal the phrase. When the puzzle is done, each letter will have been used only once, and the letters will all be connected to reveal the famous quote.
Stickels, author of the top selling book, "The Big Brain Puzzle Book," (published by TIME, Inc.) released in conjunction with the Alzheimer's Association, has authored or co-authored over 35 books and has dedicated his life to the pursuit of improving one's mental flexibility and creative problem-solving skills, while having fun. Stickels is the only puzzle writer in the world with two different syndicated puzzle columns. He writes the world famous FRAME GAMES and Stickdoku puzzles for USA WEEKEND Magazine and the popular STICKELERS brainteaser column for KING FEATURES. Both columns have run for over ten years and have gained readership each year.
The legendary Martin Gardner said, "I don't know how he is able to come up with so many varied, fun and challenging puzzles. He has joined the ranks of the top puzzle writers of all time."
About Terry Stickels
A native of Omaha, Neb., Terry Stickels has authored or co-authored 35 books, numerous card decks, bookmarks and calendars of puzzles. Stickels is also noted as one of the top speakers on critical thinking and mental flexibility. Find out more at http://www.terrystickels.com .
###