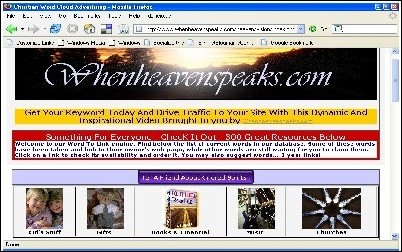 Lexington, KY (PRWEB) August 1, 2006
The concept of Word Cloud sites is new, unique and fresh. The main drawback is driving traffic to these types of sites. New websites must either have a high page rank, or a large marketing budget to get noticed by big search engines such as Google.
Word Cloud or Word Tag sites are an online marketing rage. They are a part of what is being called Web 2.0; a new way of marketing and advertising. The rise in Social Bookmarking and Tag and Ping have brought about a new source of internet traffic.
Whenheavenspeaks.com has come up with a subtle yet powerful marketing approach. The website uses a touching and inspirational message to convey hope. This message can then be passed along to friends and family instantly via a "tell a friend" button.
In order to capitalize, advertisers must understand current trends. Several events have made this all possible.
1. The great percentage of web surfers us some type of broadband internet access. This means that they are more likely to view an online movie without reservation.
2. Social bookmarking sites such as Technorati and Del.icio.us have a strong following, bookmarking one's site is considered in effect a vote of approval.
3. Interest in the supernatural and spiritual is at an all time high. World uncertainty at times leads to personal uncertainty. Everyone seems to be asking "what next"?
Whenheavenspeaks.com does not answer the question of what next, but instead is meant to give hope to those who have suffered loss. It provides viewers a tool to send when words are not enough. Like minded advertisers are encouraged to become a part of something unique, and by doing so reap the benefits.
This type of marketing does not rely on search engines to bring traffic, but instead on individuals themselves who want others to know about the movie "Kindred Spirits". The movie has a very personal and spiritual meaning that's sure to bring about discussion and self examination.
Ministries and private business can both capitalize on the "word of mouse" simplicity that's being used. The flash movie is approximately 6 minutes and 16 seconds long. Once finished the movie automatically redirects to the "Word Cloud" advertising page, thus giving maximum exposure. In effect, if the movie is viewed 11,000 times, the links page will be accessed everytime.
To make it even more interesting, the movie will be "enhanced" monthly to feature tributes to loved ones as part of the movie presentation. This will not only increase instant referrals but promote return visits. Loved ones will then receive a customized DVD of their relatives tribute absolutely free.
Long term traffic will also be enhanced by creating a sense of community within the site. A directory of ministries and businesses will enable sites to link in and be featured by category.
For additional information on word cloud tags and word tag advertising that is the subject of this release, contact Winfred Jennings or visit http://www.whenheavenspeaks.com.
Contact:
Winfred Jennings, Webmaster
Whenheavenspeaks.com
859-514-6697
http://www.whenheavenspeaks.com
# # #