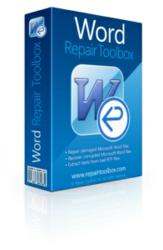 an extremely powerful and yet easy to use solution for recovering data from damaged Word documents.
Sacramento, CA (PRWEB) May 15, 2013
Repair Toolbox, supplier of premium file repair and data recovery tools for a great number of popular applications, is glad to present Word Repair Toolbox, the most advanced solution of its kind. Based on a proprietary file analysis core and a combination of recovery algorithms, the program enables users with basic computer skills to quickly restore text from damaged Word documents without resorting to expensive and often sluggish third-party services. The product restores text context only from *.doc, *.docx, *.dot, *.dotx and *.rtf files and makes sure that the destination document does not have any unreadable segments – the output file is clean and fully readable, from A to Z. This Word file repair tool supports all major versions of Windows, starting from Windows 98, and all versions of Word, from Word 95 to 2010, as well as RTF files. The developers paid extra attention to the simplicity of the user interface and based it on a step-by-step wizard that makes the recovery process a sequence of simple steps that anyone can cope with. The product fully supports ASCII and Unicode documents, allowing users to extract texts from any non-Latin files.
"Microsoft Word is obviously the most popular word processor in the world and we couldn't ignore this fact. Our solution is the best choice for users looking for fast and easy recovery from Word documents in any encoding," says Ivan Bobrov, Product Manager at Repair Toolbox. "Our tests showed that our product is better than its closest competitors in many respects and we hope that it will save the day for many users."