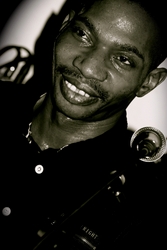 Both Makane and Balla Kouyaté, were born into Mali's first family of music. They are Griots, a famous lineage of oral historians dating back 900 years to the beginning of the Mali Mende Empire
New York, NY (PRWEB) March 31, 2011
Teaming up with cousin Balla Kouyaté and a stellar international ensemble of African, Afro-Caribbean, jazz and blues sessionists, Mali in New York's fusion of fiery percussive rhythms, jazz syncopation and Makane's passionate vocals converges on themes such longing for home, peace, spirituality, and most of all, love, which is the driving force behind Denbaya's music. With the exception of "Djarabi" and "Yiri Tule," which are popular traditional songs, all other tunes have been written by Makane.
Both Makane and Balla Kouyaté, were born into Mali's first family of music. They are Griots, a famous lineage of oral historians dating back 900 years to the beginning of the Mali Mende Empire. Makane has been playing the drums since he was five years old. He has performed with artists such as Salif Keita, Habib Koite', Sadjo Kouyaté, the Mamadou Diabate Ensemble, and many others. His cousin Balla, considered to be among the greatest balafon players in the world today, has performed and recorded with the likes of Angelique Kidjo, Ami Koïta, and Vusi Mahlasela to name a few.
Makane's band Denbaya, which means family in Bambara (Makane's native language), began as a collaboration between the Malian cousin/artists, and an international ensemble of New York-based artists Marco Chelo (co-Founder of the New York Jazz Workshop School of Music) on tenor sax, Keith Gamble (Olu Dara, Robert Cray) on electric guitar, John Austria on piano and keyboards, Fred Pratt on bass, Vince Warren on drums, Jose Ramon Rosario on percussion. The album was recorded live at Excello Studio by recording engineer Ethan Donaldson and mastered by Ken Rich of Grand Street Recording (Brian Eno, Olatunji).
The album, produced by Marco Chelo, Griot's Garage Productions © is available now on ITunes, Amazon and other online musical media venues. The band will be playing upcoming dates in New York City at the Canal Room on April 12, 2011 in support of The Center for Constitutional Rights and at Boom on April 28th for the CD release party. Future dates for an upcoming tour are being booked. For more information about booking interviews or performance dates contact Jeff Natt, Awethu Productions at 646 247-7658.
###