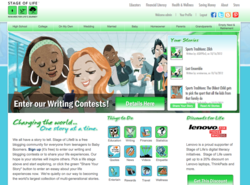 "When students emotionally connect to what they're writing...they remember it vividly...and that's a powerful tool for recall on vocabulary quizzes, SAT tests, or college entrance exams," --Rebecca Thiegs, VP of Education for StageofLife.com
Minneapolis, MN (PRWEB) June 28, 2013
Starting July 1, 2013, StageofLife.com, an education start-up and teen blogging community, will officially launch its latest educational campaign for the 2013 - 2014 school year. The initiative is entitled "Word of the Day," and it's a daily writing exercise for the quarter of a million teenagers, college students, bloggers, parents, and educators visiting StageofLife.com to find and participate in inspirational writing activities.
The Word of the Day campaign is a simple vocabulary lesson that features a new word each day as a non-fiction writing prompt to encourage people to write a short daily blog post or essay using that as inspiration.
Rebecca Thiegs, M. Ed from University of Minnesota and VP of Education for StageofLife.com, implemented the Word of the Day writing prompt to complement StageofLife.com's core mission to develop life-long readers and writers. "When students emotionally connect to what they're writing...they remember it vividly...and that's a powerful tool for recall on vocabulary quizzes, SAT tests, or college entrance exams," said Thiegs.
Thiegs expects that students will challenge their perspectives as they are tasked with incorporating new vocabulary into a personal essay, and that the students will carry these words with them into their adulthood and later life stages. "This daily vocabulary exercise will help teens and college students both expand their vocabulary and learn to better express themselves through their writing," Thiegs stated.
But the Word of the Day writing exercise isn't just for teens. The words selected serve as daily sources of writing inspiration for people of all generations blogging and writing on StageofLife.com.
Maura Beaver, a Penn State York college student blogger on StageofLife.com, is excited about the addition of the new Word of the Day writing prompt, "I think everybody needs something that will spark a higher level of thinking each day - whether you're a college student or a grandparent," she said, "and this is a creative way to achieve that."
The featured word is hand-selected by the StageofLife.com Editorial team from a variety of sources such as helpful vocabulary books like "100 Words to Make You Sound Smart" by American Heritage Dictionaries to words submitted by StageofLife.com users.
StageofLife.com adds new writing tips and prompts each month to its Educational Resources and Lesson Plans for Language Arts Teachers page.
You can contact StageofLife.com and Rebecca Thiegs at contact(at)stageoflife(dot)com.
# # #
StageofLife.com was launched in 2009 as a privately held company with a literacy mission to encourage life-long readers and writers through its blogging community designed for all generations, from teens to Baby Boomers. Since its launch, StageofLife.com has welcomed over half a million bloggers, writers, and readers from over 100 countries who have come to read or share their life stories. Over 5 million words from thousands contributing writers have been uploaded to the site. The site features a wide array of free educational resources ranging from writing contests, blog resources, Language Arts lesson plans about blogging, goal setting worksheets, writing prompts, coupons for teachers and students, and more.