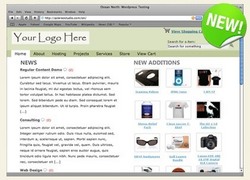 Granite Bay, CA (PRWEB) October 22, 2009
"Market" is a revolutionary new theme that transforms any standard Wordpress installation into a fully functional e-commerce store, featuring its own built-in shopping cart system and product management administration abilities.
Market acts as a storefront, allowing users to customize with products and add-ons. Adding products is made easy thanks to the Market Product Manager, which is included with the theme. Further customization is available with the "Grid-View" Storefront option.
Market can also be used by those without their own products to sell. Use Market as an easy way to display portfolio items or products for affiliates.
The Market Theme works with nearly any version of Wordpress from 2.0 to the current 2.8.4 release. It can be used on both Wordpress and Wordpress MU.
The shopping cart feature makes payment easy and affordable. There are no recurring monthly fees or ongoing charges. Market supports multiple payment types, including Google checkout and Paypal. Additionally, Market customers will have free lifetime access to all future modules and upgrades.
Market also provides a helpful support community with private forums containing "How to" information, customization tips, and answers to many common, and uncommon, questions.
"The Market Theme is quite possibly the simplest way to quickly setup and operate a Wordpress ecommerce store" says company president Eli Fry.
To purchase Market Theme there are two types of licenses available, the standard license ($55 USD) and the developer's license ($150 USD). The standard license is ideal for bloggers or webmasters looking to run their own shops on one or multiple sites. The developer's license is suited for designers and developers looking to build off the Market theme as part of client work.
A live demo is available at http://www.MarketTheme.com to give visitors the chance to try out the Market Theme before buying.
Contact:
Eli Fry
916-212-8107
###