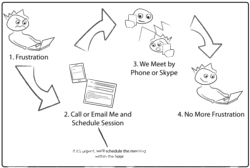 Wordpress users no longer have to face frustration. Support is just a phone call away with MyWordpressExpert.com.
Manhattan Beach, California (PRWEB) September 30, 2011
When Wordpress users would run into a problem or had a question, they had two options: try and figure it out themselves, or spend thousands of dollars to hire a Wordpress developer.
That's how it used to be.
But with the launch of MyWordpressExpert.com, any Wordpress user now has access to affordable Wordpress support from website designer and Wordpress developer, Brandon Yanofsky...All they have to do is call.
"When I first started using Wordpress, I had to figure everything out myself," says Brandon Yanofsky, founder of MyWordpressExpert.com. "I'd spend days wasting time trying to figure out how to use Wordpress. There were times when I wish I could just pick up a phone and call someone."
Knowing the frustration many Wordpress users face, Brandon started MyWordpressExpert.com so users have a phone number they can call for help any time.
MyWordpressExpert members are given a phone number and email address. Whenever they have a problem or question, they simply call or send an email. Brandon then schedules a time when they can discuss the problem.
Understanding that some matters are extremely urgent, such as when a small business's website goes down, MyWordpressExpert.com also offers "Urgent Help."
With this option, members still call or email, but they receive a call back within the hour, many times within 5 minutes of sending the message.
For those interested in MyWordpressExpert.com, individual, 30 minute sessions and monthly packages are available.
As a launch special, MyWordpressExpert is offering a $125 discount to charter members.
For more information, visit MyWordpressExpert.com.
About MyWordpressExpert.com
MyWordpressExpert.com is an affordable, Wordpress support solution. Whether users need help installing Wordpress, learning how to use Wordpress, or customizing a Wordpress theme, MyWordpressExpert.com offers the help you need.
About Brandon Yanofsky
Brandon Yanofsky is a website designer and developer. He's worked with a number of clients and customers, from bloggers to home business to small businesses. He's also the founder of numerous companies, including MilitaryGirlfriendClothing.com and BlistMarketing.com.
Media contact:
Brandon Yanofsky
310-683-3573
brandon(at)mywordpressexpert(dot)com
###