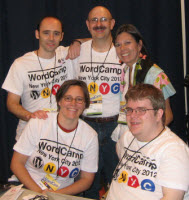 Together we are a mighty force that you can harness to grow your business.
New York, NY (PRWEB) August 23, 2012
Tadpole Collective, LLC, a fledgling workers' cooperative started by five professionals who met through their local WordPress Meetup, is pleased to announce their first public workshop for those seeking to explore WordPress as a platform for their business or non-profit website or blog.
Getting Started with WordPress is a five-hour "bootcamp" where participants will be provided with hands-on instruction in the installation and basic management of a self-hosted WordPress site. The course will cover:

The difference between WordPress.com and WordPress.org
Installing WordPress
Using the WordPress dashboard
Editing and adding content to your site
Working with photos and video
Customizing your site with themes and plugins
Backing up, updating, and securing WordPress
Getting help with WordPress
The $120 cost of the course includes three months of free hosting so that participants can continue to work on their websites after the class. This represents a $45 value and is part of Tadpole's commitment to providing quality WordPress hosting plans. Tadpole's Standard Hosting plans give clients full cPanel and FTP access and the ability to add and manage their own plugins and themes. As with the $5/mo WordPress Managed Hosting, Tadpole will take care of all the WordPress core updates.
According to founding member Melissa Cahill, owner of Panoptic Online Marketing, LLC, the Tadpoles share a strong belief in open-source software, collaborative effort and empowering the individual WordPress user.
"We were brought together by our mutual appreciation for simplicity and the evolution of small things," said Cahill. "We like to think that together, we are a mighty force that you can harness to grow your business, spread your message and know that real people have your back."