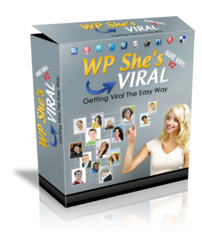 Amazing How User's Get A Affiliate Link For Sharing Ingenious
London, UK (PRWEB) October 24, 2012
Viral WordPress plugins are add-ons for WordPress central management system (cms) for short improve on the power and user experience, plus some plugins will enhance the overall traffic of a blog in different ways.
They are now becoming more popular with many sites struggling to rank and with SEO moving towards more social metrics. To get a good online presence you need to be 100% different in the way you post to your blog and encourage interaction on the blog itself.
One little post or page made using WP Shes Viral Plugin gives you the power to lock the content multiple times on a post or page so in turn giving the blog owner many options for using the plugin to gain social back-links and fresh unique visitors to there blog.
Installation of the plugin is very straight forward and can be set up and done within minutes. During the installation process, the user can set the sites they wish blog visitors to share the content to and set a back end image for sharing on the new and very popular site Pinterest for image sharing.