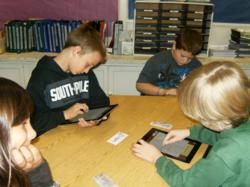 The OpenMinds platform will enable publishers, curriculum developers, and teachers to input existing content (lessons, assessments, worksheets, CORE and STEM curriculum) to instantly create interactive, mobile learning apps through adaptive algorithms.
Baltimore, Maryland (PRWEB) October 23, 2012
Baltimore, Maryland – As curriculum experts and publishers dive into the world of digital learning to improve academic performance, Words & Numbers, (W&N) a digital-first content creator, is partnering with Root-1, a personalized, practice-based technology developer, to design a series of new and open source learning apps for education.
From interactive and print textbooks to digital courses to game-based learning, Words & Numbers creates digital content for a diverse market, across many technologies, and for all students. Root-1 is ranked among the top 10 innovative technology companies of 2012.
The OpenMinds platform will enable publishers, curriculum developers, teachers and gamers to input existing structured content (lessons, assessments, worksheets, notes, CORE and STEM curriculum) to instantly create interactive, mobile learning apps through adaptive algorithms.
"Over the years, we've created lots of educational games and learning apps for our clients and what we love most about OpenMinds is how the platform separates content creation from learning optimization," said Phyllis Hillwig, Ed.D. Chief Strategy Officer for W&N. "The algorithms apply directly to the content to evolve users' materials. Students like the apps because they can acquire knowledge fast, learn at any time and receive meaningful feedback."
W&N and Root-1 have already pre-populated Language Arts content that some California teachers are customizing in their San Jose elementary school. "Our teachers appreciate the ability to personalize the apps and games," said Lisa Diffenderfer, Assistant Director of Instructional Technology at the Harker School in San Jose, CA. "Uploading their own content and our curricular into OpenMinds to generate engaging digital apps is the next step in evolving the teaching and learning process."
"We believe that teachers are still the primary influence for instructional delivery," said Vibhu Mittal, founder of Root-1 and former senior member of Google Research. "With this series, they can create a learning app in a systematic way to supplement their teaching. We've seen their excitement to provide meaningful skill practice in an app that students prefer and enjoy!"
The algorithms in OpenMinds analyze multiple variables to maximize learning such as past performance data, speed to answer, timing of questions, layering of question types, and working memory. Content can be accessed and represented in a variety of mediums and forms such as video, free-form text, assessment items, and skill practice. Structured text can be reused algorithmically through well-defined APIs. Students choose an optimal level of content appropriateness, spacing, and frequency to grasp and retain knowledge. Data is aggregated from a single user to anyone who plays the learning app or game. Game developers will also like the ability to separate content creation from learning optimization on the front end -- an advantage not available on many traditional, legacy game applications.
W&N and Root-1 will continue to work with schools, publishers, curriculum experts and educational gamers to build a content repository for multiple grades, disciplines and subjects.
"This partnership presents an extraordinary opportunity to serve our clients with a tool that can transform quality educational content into personal digital learning experiences," said David Graham, VP of Sales for W&N. "Using our innovative content services with Root-1's OpenMinds technology platform, users can yield effective and measurable results for improved skill mastery and learning engagement."
For a demo and information about W&N, Root-1 and OpenMinds, contact David Graham at dgraham(at)wordsandnumbers(dot)com.
***
About Words & Numbers
Headquartered in Baltimore, MD, Words & Numbers leads the digital-first content transformation through its work building pedagogically sound content for high stakes education initiatives. Clients include today's digital-first leaders, including Florida Virtual School, Discovery Education, Pearson, Connections Education, and more.
About Root-1
Headquartered in Mountain View, CA, Root-1's vision is to personalize practice-based learning. Established in December 2010, Root-1 was recognized as one of "The World's 50 Most Innovative Companies" by Fast Company (February 2012) and featured among top companies to watch in the 2012 EdNET Conference. With more than 500,000 users, Root-1's apps have been featured in MindShift/KQED's "10 Awesome Apps for Learning" and in the Apple App Store's "New & Noteworthy" category.