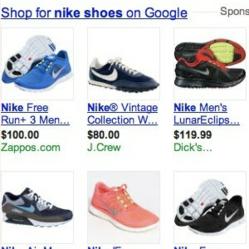 Many Merchants want to be on Google Shopping but don't know how
Foster City, CA (PRWEB) December 17, 2012
WordWatch has added Product Listing Ads to its service offering. Thousands of merchants are looking for help to get their products on Google and in Google Shopping. But creating and managing Product Listing Ad campaigns is not that easy.
Google replaced its free Product Search by Google Shopping. Many merchants were enjoying free product listings on Google, but can only continue their listings if they set up an AdWords campaign and pay for each click. That is often a big hurdle.
Jacques van der Wilt, CEO of the California based WordWatch Inc.: "Merchants often succeed in turning their product feed into Product Listing Ads. But then they end up having one single bid for thousands of products and don't know how to maximize their sales for the lowest cost. That's where we come in."
WordWatch reviews the PLA-campaigns of every customer and makes sure that it is set up perfectly: They analyze the product feed and add multiple product targets that reflect the business objectives of the advertiser. If necessary, WordWatch modifies the feed (add Google Product Categories, AdWords Labels) to make sure that all important bidding conditions are available.
When the perfect campaign is set up, Wordwatch will monitor and modify all bids every single day and maximize the number of clicks or conversions.
WordWatch has gained a lot of experience in PLA-management. Many WordWatch customers have started with Product Listing Ads and increased their sales with 20% or more. Managing PLAs is available as part of WordWatch' regular plans, starting at $49 per month.
About WordWatch
WordWatch has successfully managed keyword bidding on Google AdWords for thousands of businesses over the past three years. Powerful algorithms ensure that advertisers increase their traffic and their sales, while saving time and money. Managing Product Listing Ads is now part of the same service.