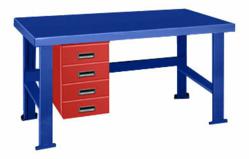 A Plus Warehouse offers the best work bench values - hands down
Boston, MA (PRWEB) May 31, 2012
The Noble Work Bench is a required piece of productive furniture used in all industry. A Plus Warehouse has been providing quality work bench lines continuously since 1996 and will continue. Work benches can be industrial 12 GA or lighter commercial grade. Some work bench lines are for electronics manufacturing applications and have ESD tops. A Plus Warehouse is here to fill a wide range of work bench demand.
The summer 2012 promotion will make a work bench order even easier than normal. Through August 2012, any customer mentioning the Summer Work Bench Promotion will be charged a freight charge that will not exceed 15% of the order value for any unassembled work bench order that exceeds $1200 in value.
A Plus would like to bring the readers' attention to the BigBlue work bench line. BigBlue benches are made in USA to A Plus Warehouse's exacting specifications. The neat thing about a BigBlue work bench is that the colors can be mixed in small batches. Who else will sell one bench in Orange with Black Shelves? Additionally, there is no set up fee for any color shown in the drop down menu included with on the shopping cart! Another work bench line to mention is the KingCab.
KingCab storage cabinets are well known as the 12 Gauge indestructible storage cabinets. They now produce and stock work bench items as well. For customers that need durability, KingCab can't be beat. A Plus Warehouse also provides the work bench lines of Edsal, Parent Metal, Lyons, Pollard, Hallowell List, Stronghold, Penco and others as well.
A Plus Warehouse offers a compelling value for work bench orders nationwide. "A Plus Warehouse offers the best work bench values – hands down" according to Ed Stairman. A Plus Warehouse can offer compelling values by using regional warehouses, and passing savings due to economies of scale on to the customers. As a broad based materials handling dealer, A Plus Warehouse has vendors coast to coast to satisfy customers on a national basis. Many A Plus Warehouse vendors manufacture work benches as well as shelving and other industrial equipment.
A Plus Warehouse sales people are among the very best, and are here to help in any way. Call A Plus Warehouse at 800-209-8798 and experience service the way it should be done.
About A Plus Warehouse: A Plus Warehouse provides quality work bench lines to customers nationwide, and is ready to help with any requirement. The summer work bench special is running through August 2012!