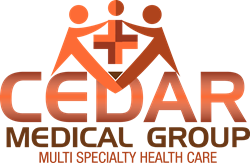 Over 90% of patients at Cedar Medical Group obtain substantial pain relief with the Board Certified providers at all 5 locations!
Ontario, CA (PRWEB) April 13, 2015
Cedar Medical Group, a top Inland Empire practice for pain management, orthopedic and chiropractic treatment, is now accepting workers compensation claims for treatment. This includes the vast majority of MPNs, with the medical providers being Board Certified and highly skilled. Call (888) 998-9693 for more information and scheduling.
When a person is injured on the job, it is crucial to obtain medical treatment as soon as possible. Not only does Cedar Medical Group see patients quickly, they also have comprehensive nonoperative and surgical providers working together. This presents a considerable amount of options to patients that are customized so the best outcomes are achieved. Appointments are available within 48 hours.
Treatment options include spinal manipulations, spinal decompression therapy, medication management, interventional procedures along with minimally invasive orthopedic surgery options. These treatments are cutting-edge, with patients benefiting from the latest options including laser, arthroscopy, radiofrequency ablation and more.
Cedar Medical Group offers five locations throughout the Inland Empire including Fontana, Ontario, Moreno Valley, Hesperia and Pomona, CA. Board Certified doctors offer over 25 treatment options. The website for the practice showing treatments offered is http://www.painmanagementinlandempire.com .
The vast majority of patients are able to return to work with the effective treatments at the centers. Patients are typically able to be seen within forty eight hours at any of the centers. Simply call (888) 998-9693 for more information and scheduling.