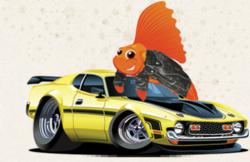 (PRWEB) February 27, 2013
RoadFish.com men's lifestyle and finance magazine today issued their statement encouraging consumers never to become complacent with their credit scores, but rather to continually strive for a higher number. RoadFish.com's statement comes as a reply to a recent Walla Walla Union-Bulletin article which pointed out that even the difference of one point on a credit score is enough to make the difference between saving or costing money.
Gabe Terreson recently reported for the Walla Walla Union-Bulletin, a publication from eastern Washington state, on the incredible difference that just a few points on one's credit score can make. Terreson reports that the system of credit scores is done by a mathematical formula, the result of which is obviously highly crucial when it comes to lenders and financial institutions determining what sort of interest rate to grant a potential borrower. Terreson states that every 20 points on a credit score makes an incredible difference to the interest rate of a loan, and reports that even being off by one point can alter the interest rate. He uses the example of having a 679 credit score and a 680, stating that it can "literally be the difference in having a fee assessed of hundreds, if not thousands, of dollars on a particular interest rate."
With this article in mind, RoadFish.com urged consumers never to settle for their existing credit score, but always to strive for a higher one—even if it's only by a few points. RoadFish.com's Senior staff writer is quoted as saying, "I think it's awesome to see people actively working on improving their credit score. I know a few people who are checking their scores every month, using credit cards each month for necessary expenses then paying off the entire sum so that their credit-use ration is low, and being very cautious about entering into scenarios where their credit will need to be run—an essential ding to your score. But the thing is, we should all be actively trying to better our credit, all the time. I would encourage you guys never to settle, never to become content with the score you have—because as we've seen from Terreson's article, the difference of even just a few points can mean a massive amount of savings. And you might not know just how close you are to the next cut-off, the next number that could save you quite a bit. It's like that guy in the beer commercial says… 'Stay thirsty, my friends.' I would urge us all to feel that way about our credit scores."
In the above-mentioned Walla Walla Union-Bulletin, Terreson states that for a consumer with a score of 740 or above, they will not have to worry about paying premiums for obtaining mortgage loans. However, if scores are in the 600's, there is a big discrepancy between fees depending on just a few numbers. In the example of the difference between a score of 679 and a score of 680, Terreson reports that the FHA lenders assess a one-half percent fee on a loan amount. He gives the example of if a borrower was taking out a loan of $200,000 for a house, then one-half percent would be equivalent to $1,000—and all because of just one little point on the credit score. Terreson advises obtaining copies of all credit reports from the credit bureaus before applying for a mortgage loan, that way consumers can see where they stand and take the necessary steps to hopefully work on their credit before the banks start looking at their scores.
RoadFish.com agrees that checking credit before taking out a loan is wise, but believes that checking credit once per year regardless of taking a loan out is far wiser. RoadFish.com's Senior staff writer is quoted as saying, "It's all well and good to check your credit before you plan on buying a car, or a house. But what if you check it six months before you plan on taking out the loan, and it's simply not enough time for you to turn it around to the point where it would actually save you a decent amount of money? See, if you start working on your credit score before you really need to, it's worth a hell of a lot more because you have ample time to make the necessary changes. You're not pressed for time, stressed about your score. You can make small changes over time, and develop good financial habits that will hopefully stick with you throughout your life. Now that's a score to be proud of."
Walla Walla Union-Bulletin writer Gabe Terreson is a 17-year industry veteran in real estate and home mortgages. Besides writing columns, he regularly hosts workshops and seminars for mortgage consumers and real estate brokers.
About RoadFish.com:
RoadFish.com is an online lifestyle and finance magazine for men who are approximately in their 30's and 40's. The publication regularly features stories about hot chicks, the best online dating sites, reviews on restaurants and hotels, and luxury items for men. RoadFish.com also focuses on how to better one's personal finances, offering tips on how to keep a tight budget as well as taking a closer look at finance in the news, such as the recently passed law to ban credit card soliciting on college campuses in New Jersey. RoadFish.com is owned and operated by Purpose, Inc.