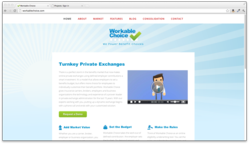 WorkableChoice.com takes a complicated topic like health insurance and makes it easy to understand.
Orlando, FL (PRWEB) September 05, 2012
Terry McCorvie, president and CEO of Workable Solutions, Inc. (WSI), a developer and administrator of private health insurance exchanges, announces the launch of their new website, WorkableChoice.com. WorkableChoice.com is intended to inform the insurance industry of WSI's newest health insurance exchange platform, Workable Choice.
Workable Choice offers a turnkey solution that enables large employers and companies within the health insurance industry to gain market share by offering a greater value to their employees or clients. The insurance exchange platform is uniquely suited to the defined contribution model and ensures that employers will be able to continue providing benefits to their employees. The exchange makes it simple to offer more health plan options to employees without overwhelming or confusing them. Workable Choice also includes a recommendation engine that asks personalized questions in order to suggest the best-suited plan(s) for each individual.
Workable Choice will appeal to carriers because the platform integrates with other platforms and provides exclusive exchange technology to recommend plans, allow online enrollment, and track eligibility, billing and payments. The web application allows employees to go from login to plan selection in 15 minutes. That's good news since some employees equate open enrollment to going to the dentist.
The website's homepage features a video that describes how the defined contribution model can save employers money while giving employees the benefit of choices. Using a food court analogy, WorkableChoice.com takes a complicated topic like health insurance and makes it easy to understand.
WorkableChoice.com demonstrates samples of custom branded skins. Carriers, brokers, organizations and large employers have the option of adding their own branding to the application to support their marketing efforts.
WorkableChoice.com also provides information to carriers, brokers, organizations and large employers on how the exchange platform can enhance their market offerings. Interested parties can request a free demonstration on the website using the online form. The demonstration is a comprehensive view of all of Workable Choice's features, many of which are not revealed to the public on the website.
About Workable Solutions, Inc.
Workable Solutions is based in Orlando, FL and provides a full array of employee benefit solutions including HSA, HRA, FSA and commuter accounts, COBRA administration, benefits administration outsourcing, defined contribution solutions, and health insurance exchange technology and administration. The Workable Choice Exchange application provides plan selection assistance, comparison-shopping technology, eligibility management, enrollment, consolidated billing, and more. Workable also offers a myriad of defined contribution options, which allow employers to control their employees health care costs while giving their employees greater choice and flexibility.