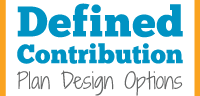 …overcome the increasing cost of providing health insurance…
Orlando, FL (PRWEB) July 30, 2012
Workable Solutions is accepting registrations for a complimentary webinar that will uncover the many options in Defined Contribution models that will ensure the success of employee benefits brokers. This webinar, entitled "Defined Contribution: Plan Design Options", is scheduled to take place tomorrow, July 31, 2012 at 9:30 AM Eastern time.
The program will focus on eliminating the need to pay for a group health plan (a defined benefit) and developing defined contribution plans that allow employers to control their costs by establishing a health plan that fits their budget and preferences.
"We're excited to be presenting this complimentary webinar," said Chelsie Price, Marketing Manager for Workable Solutions. "Brokers should attend this webinar to learn how they can develop plans to assist their clients in overcome the increasing cost of providing health insurance to their employees."
Though registration is complimentary, advance registration IS required. Attendees can still register for tomorrow's webinar, Defined Contribution: Plan Design Options, to be held Tuesday, July 31 at 9:30 AM Eastern Time.
About Workable Solutions
Workable Solutions is based in Orlando, FL and provides a full array of employee benefit solutions including HSA, HRA, FSA and commuter accounts, COBRA administration, benefits administration outsourcing, defined contribution solutions, and health insurance exchange technology and administration. Their Workable Choice Exchange application provides plan selection assistance, comparison-shopping technology, eligibility management, enrollment, consolidated billing, and more. Workable also offers a myriad of defined contribution options, which allow employers to control their employee health care costs while giving their employees greater choice and flexibility.