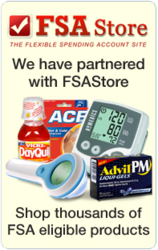 …a truly unique solution for consumer-driven participants.
Orlando, FL (PRWEB) July 31, 2012
Workable Solutions, a full service benefits administration company with advanced insurance exchange solutions, announced today its partnership with FSAStore.com, the only e-commerce site stocked exclusively with Flexible Spending Account eligible products and services.
Workable Solutions manages consumer-driven accounts including FSAs, HSAs and HRAs for approximately 6,500 participants. Now those participants can spend their tax-free savings dollars conveniently online. Since FSAStore.com is stocked exclusively with eligible items, participants can use their benefits cards to purchase these items without needing to provide receipts.
FSAStore.com also supports the purchase of over-the-counter medications with a prescription, with a new service in response to the 2011 legislation requiring a prescription for those products to be reimbursed by an FSA/HSA. Customers can mail their prescriptions, have their doctor fax the prescription, or provide their physician's information; FSAStore.com will handle the rest.
Consumer-driven plan participants can purchase FSA eligible items, like bandages, blood pressure monitors, contact solution and more, throughout the year. Workable Solutions will also encourage participants to check and spend down their balance at the end of their plan years during the use-it-or-lose it period when funds can expire.
"FSAStore.com brings a truly unique solution to the marketplace and to consumer-driven participants. We partnered with them to give our participants an easy way to buy FSA eligible items with confidence and convenience," said Terry McCorvie, President/CEO of Workable Solutions. "In addition to offering a great online buying experience, FSAStore.com also provides excellent educational resources about eligible services and products, and local providers."
About Workable Solutions
Workable Solutions is based in Orlando, FL and provides a full array of employee benefit solutions including HSA, HRA, FSA and commuter accounts, COBRA administration, benefits administration outsourcing, defined contribution solutions, and health insurance exchange technology and administration. Their Workable Choice Exchange application provides plan selection assistance, comparison-shopping technology, eligibility management, enrollment, consolidated billing, and more. Workable also offers a myriad of defined contribution options, which allow employers to control their employee health care costs while giving their employees greater choice and flexibility.
About FSAStore.com
FSAStore.com is the only e-commerce site exclusively stocked with FSA eligible products and services so there are no guessing games about what is and isn't reimbursable by an FSA. In addition to more than four thousand FSA-eligible products the site offers a national provider database of FSA eligible services and an FSA Learning Center. FSAStore.com accepts all FSA debit and major credit cards, offers 24/7 customer service, one-to-two-day turnaround and free shipping on orders $50+. Because every item is FSA eligible, there is no need to submit receipts when using an FSA debit card.