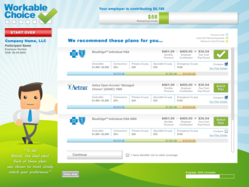 By sponsoring a private exchange, brokers can expand their product offerings and services.
Orlando, FL (PRWEB) October 02, 2012
Although many of the requirements of the Patient Protection and Affordable Care Act (PPACA) don't take effect until 2014, brokers are already experiencing some changes.
PPACA has increased the need for brokers to advise their employer clients on how to comply with the law. Brokers are aiding employers with the Summary of Benefits and Coverage (SBC), which the law requires to be distributed during open enrollments this fall. Some employers are receiving rebates of premium payments due to the Medical Loss Ratio (MLR) rule. The MLR provision requires large group health insurance plans to spend at least 80% of premiums on medical expenses and 85% for small group insurance plans. Brokers must advise employers on the tax implications of these rebates and how they should be distributed.
The MLR provision is also threatening broker commissions. Although the Access to Professional Health Insurance Advisors Act (H.R. 1206) that would exclude brokers' commissions from MLR calculations has passed the House, brokers are currently seeing a reduction in commissions as insurance plans try to maintain the required ratio of administration costs.
State exchanges have also left brokers feeling unsure about their future. The exchanges have promised exchange "Navigators" but have failed to fully outline the details of this position. Can brokers be navigators? Where do brokers fit in to the new exchanges?
Although the public exchanges will make insurance more accessible, the complexity of health insurance and intricacies of benefits management is such that employers will still need a broker to consult. Even after enrollment, brokers will be essential when billing and other post-enrollment problems arise. Instead of trying to problem solve a public system, for which they have no control, brokers would be wise to consider sponsoring a private health insurance exchange.
By sponsoring a private exchange, brokers can expand their product offerings and services. Brokers don't have to spend a lot of money building a private exchange from scratch. Many private insurance exchange platforms already exist and are ready for customization.
Brokers should look for an exchange platform that has proven technology that embraces the specific needs of brokers. One of the longest-standing private exchange companies is Workable Solutions, who has been administering private exchanges for over 12 years.
No matter which platform a broker chooses, to ensure success, the exchange should be a turnkey solution that is easily integrated with existing systems. This will allow for smooth integration for payroll deductions with existing payroll systems and more.
Brokers should choose an exchange platform that stays ahead of benefit trends and provides solutions to the industry's problems. For this reason, a platform that already has an integrated defined contribution model is essential. Employers will be much more inclined to continue providing health benefits if they can budget this expense well into an otherwise uncertain future.
Brokers would also profit from an exchange that enforces eligibility rules, manages life events and administers benefit programs after enrollment. By automating services such as online enrollment, simplified billing, and on demand reporting, brokers can continue to service even the smallest of employer groups easily.
One of the key features to a sophisticated private exchange like Workable Choice is that brokers maintain control over which plans are offered. Brokers can offer an unlimited amount of plans without creating more work for themselves, since the exchange administrators handle billing. The increase in plan choices does not complicate participant decisions since the decision support engine makes plan selection simple and ensures participants are presented with the best plan for their individual needs.
Brokers can also choose to make a strategic alliance with an insurance carrier that would allow them to secure the best plans and pricing for their clients. This would allow brokers to negotiate commission compensation rates potentially higher than the standard sales commission.
A partnership with a private exchange company can also provide links to resources such as broker training & educational webinars, participant education videos, expense planning calculators and ongoing online support. The value of these benefits just might mean the difference between surviving or thriving in the post-PPACA health insurance industry of the future.
About Workable Solutions
Workable Solutions is based in Orlando, FL and provides a full array of employee benefit solutions including HSA, HRA, FSA and commuter accounts, COBRA administration, benefits administration outsourcing, defined contribution solutions, and health insurance exchange technology and administration. Their Workable Choice Exchange application provides plan selection assistance, comparison-shopping technology, eligibility management, enrollment, consolidated billing, and more. Workable also offers a myriad of defined contribution options, which allow employers to control their employee health care costs while giving their employees greater choice and flexibility.