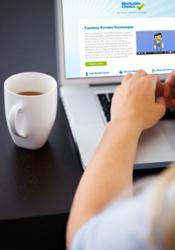 Workable Solutions made it possible for me to keep my job and my family.
Orlando, FL (PRWEB) September 05, 2012
Workable Solutions, Inc. is known for its benefits solutions and private health insurance exchange technologies. At the heart of these products is the power they give to employers to attract and retain top talent. So it is only fitting that this Orlando-based company has expanded the benefits it offers to its own employees to promote true work-life balance.
Though WSI employees typically participate in a standard 8am-5pm workday in an office that serves as company headquarters, exceptions have been made to accommodate the changing workforce. Many employees take advantage of their work-from-home policy at least one day a week. More recently, that "work from home" policy has been expanded to include homes located outside the state of Florida.
"My husband is in construction, so the lagging economy hit my family hard. Unable to find work in Orlando, and dependent on two incomes, he reluctantly relocated to Knoxville without us, leaving our three-month-old baby behind," explains Chelsie Price, Marketing Manager at WSI. "I had been at this incredible job for less than a year and didn't want to leave it, but had a strong desire to keep my family together. Workable Solutions made it possible for me to keep my job and my family."
Workable Solutions has developed a work culture that encourages employees to take ownership of their tasks and to get the work done in a manner that is effective for both the company and the individual.
"We believe that people want to work hard, and want to have pride in their jobs, but we don't expect them to sacrifice their families. Our employees work hard for us because we work hard for them. It's a team effort." says Nilda Melendez, Human Resource Director at WSI.
For Price, this work culture makes Workable Solutions a great place to work. "I know I'm appreciated and that motivates me to do my best to bring success to the company," she said.
About Workable Solutions, Inc.
Workable Solutions is based in Orlando, FL and provides a full array of employee benefit solutions including HSA, HRA, FSA and commuter accounts, COBRA administration, benefits administration outsourcing, defined contribution solutions, and health insurance exchange technology and administration. Their Workable Choice Exchange application provides plan selection assistance, comparison-shopping technology, eligibility management, enrollment, consolidated billing, and more. Workable also offers a myriad of defined contribution options, which allow employers to control their employee health care costs while giving their employees greater choice and flexibility.