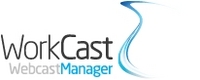 Webcast Manager changes the way that people create and manage and distribute their webcasts. It allows everyday business users to start using webcasts as an everyday business tool
Durham, UK (PRWEB) July 9, 2009
Many businesses now recognise the benefits of producing Webcasts to communicate and demonstrate content to investors, customers, prospects, partners, suppliers and employees but producing and managing these events is often challenging, expensive and the end result is of poor quality.
Webcast Manager empowers businesses to realise the commercial and business benefits of Webcasting and to integrate Webcasts with existing business processes. This self service solution is extremely cost effective for businesses to adopt and requires no technical investment or expertise.
"Webcast Manager changes the way that people create and manage and distribute their webcasts. It allows everyday business users to start using webcasts as an everyday business tool" says WorkCast's Managing Director, Gerard Callaghan.
Delivered on the unique WorkCast platform, WebCast Manager brings additional new features and benefits to customers such as:

Creating rich media content for use within webinars and webcasts
Show any desktop application including PowerPoint's and software demos as part of webcasts
Schedule webcasts for any time, on-demand viewing
Invite attendees to planned webcasts with 100% corporate branding
Provide a 100% corporate branded webcast auditorium
Access to attendee and viewer reports
Manage a full archive of webcasts
Allow viewers to access webcasts from multiple locations
WorkCast products empower enterprises by providing a professional quality Software as a Service (SaaS) solutions to create, manage and stream presentations, product demonstrations and online meeting content as Webcasts. WorkCast make content creation simple by utilising phone calls for recording audio and capture content from presenters.
A 30 day trial of Webcast Manager is available from the following location - http://www.workcast.net/webcastmanager.html.
About The WorkCast Corporation Ltd
The WorkCast Corporation (http://www.workcast.net) is the a leading supplier of online webcasting solutions and services. The WorkCast Corporation is part of the Sunderland-based, Leighton Group, which has a long and successful history in the technology, software, new media and interactive communication industries. The Leighton Group has a strong portfolio of local, national and international clients such as British Airways, Sage, Adidas, Best Western, Toshiba and ITV.
About WebCast Manager
Webcast Manager is a unique technology which allows their Customers to remotely record many types of web meeting, presentation or even video conference. Audio can be taken from any phone bridge or if integrated, recorded directly from the web meeting. The entire meeting recording can then be utilised as a Webcast and can also be integrated into normal business processes and business communications.
###