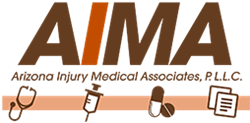 Arizona Injury Medical Associates PLLC offers Double Board Certified treatment for both AZ and Federal workers compensation patients!
Phoenix, Arizona (PRWEB) January 15, 2015
Top personal injury and workers compensation practice, Arizona Injury Medical Associates PLLC, is now offering nerve conduction studies on site. This helps dramatically with patient outcomes by offering accurate diagnostic results in a timely fashion. Call for more information and scheduling at (480) 347-0941.
Nerve conduction studies help in the workup for multiple painful conditions including carpal tunnel syndrome, nerve injury, nerve entrapments and more. By increasing accuracy of the diagnoses, treatments can be customized more specifically to increase successful outcomes.
The nerve conduction studies are performed by a Double Board Certified physician, Dr. Demitri Adarmes, MD, who is a Physical Medicine doctor offering both medical and interventional pain treatments.
Therapies are offered for patients needing treatment under either a personal injury lien or a workers compensation claim. Along with the plethora of treatment options available, Arizona Injury Medical Associates PLLC specializes in the administrative aspect of patient's claims. This helps facilitate successful results both on a pain relief aspect and a claim outcome as well.
For workers compensation, the practice treats Arizona claims and also federal claims as well. Patients from over a dozen states have been treated successfully, including internationally as well. Treatment outcomes are exceptional at the practice, along with the customer service and claim follow up assistance.
For more information and scheduling with Arizona Injury Medical Associates PLLC, call (480) 347-0941.
Arizona Injury Medical Associates PLLC
http://arizonaima.com
4840 E. Indian School Road
Suite 104
Phoenix, AZ 85018